Rehearsals have recently begun for Pace's mainstage production of Dark of the Moon which I a lucky enough to be a part of! This means rehearsals six nights a week filled with script analysis, singing some folky tunes, and for me, playing the spoons. While I'm having a ball and a half working on this productions (tickets to which can be found here), I knew the weekend before rehearsals started was going to be the last opportunity for me to truly have a day to myself for a while. With this in mind, I took that Sunday for a day-long date with myself, indulging in all my favorite activities. I had some of the best eggs benedict I've ever had the pleasure of consuming at Buttermilk Channel, went to the Guggenheim for the first time and caught the beautiful exhibit of Hilma af Klint's work (A deep and earnest recommend from me, especially if you're a fan of abstract work), and walked through Central Park from east to west. All that was left to cap off this perfect day was a sweet treat adventure.
Of course, a day such as this was demanded cake. I was suddenly struck with the intriguing idea of a unique type of cake that I had been wanting to try from Billy's Bakery. Billy's, while a bakery with a multitude of offerings, is best known for their icebox cake. This is not a style of cake I had ever heard of before reading the multitude of recommendations for it. Upon googling, I discovered that icebox cake was, as I had suspected, a no-baking-required cake usually containing whipped crème and chocolate wafers layered many times and placed in the fridge to set overnight. This is classically done with Nabisco's chocolate wafers whose package bore the recipe in the first place, but can be riffed on with graham crackers, Oreo's, Ritz crackers, or any other snack cracker/cookie that would absorb the moisture of whipped cream. The whipped cream also has room for variety as it is an easy vessel into which a myriad of flavors can be infused. How had I not ventured into the world of this dessert in my own baking? While I had gone through a period as a youth of making many a layered pudding from the classic banana to a deconstructed s'mores, to a chocolate explosion, all that it seemed was needed to turn those from puddings to cake was whipped crème amongst some of those layers and a little more time in the fridge. Therefore, I was excited by this opportunity to try something never before tasted, but with some idea of the possible positive direction it could go.
I ventured down to Billy's primary location in Chelsea and fell in love with their pastel yellow and teal interior adorned with old-school letter board and glass cake plates galore. There were a couple of small tables in the corner by the window, but they were unfortunately all taken. I was not disappointed by this though, as I was looking forward to a night of Gilmore Girls and cake on my bed. I gazed at the contents of the pastry case and was dazzled by the many non-cake items that were enticing me in addition to the object of my mission. Cookies, bars, pie, and pudding all stared back at me begging for my attention. I somehow managed to pull my eyes away and ask the employee at the register if they had any icebox cake. Unfortunately, the answer was no, so I was forced to reconsider my options. There were a number of options but the chocolate cake with chocolate and bourbon salted caramel icing was a thing of beauty I felt I had to honor with a try. And while I was on a mission for cake, I was struck by the stack of peanut butter and jelly bars that were appealing to my childhood love for the classic combo. It was my final day of freedom blowout, I may as well get both. And maybe I would have the restraint to have some cake tonight and the peanut butter and jelly tomorrow! I got one slice of cake and one bar and jaunted back down to FiDi to tuck into a night of relaxation perfection.
After changing into my pajamas and setting up some Gilmore Girls (First episode of season 3, with Rory coming back home from summer break? A classic!), I set myself up on my bed with my slice of cake. The scent, a vital factor of success, was intoxicatingly full of chocolate and sweetness. This was the scent of true indulgence. This was the scent of a house after a day of fruitful baking. This was the scent of good things to come.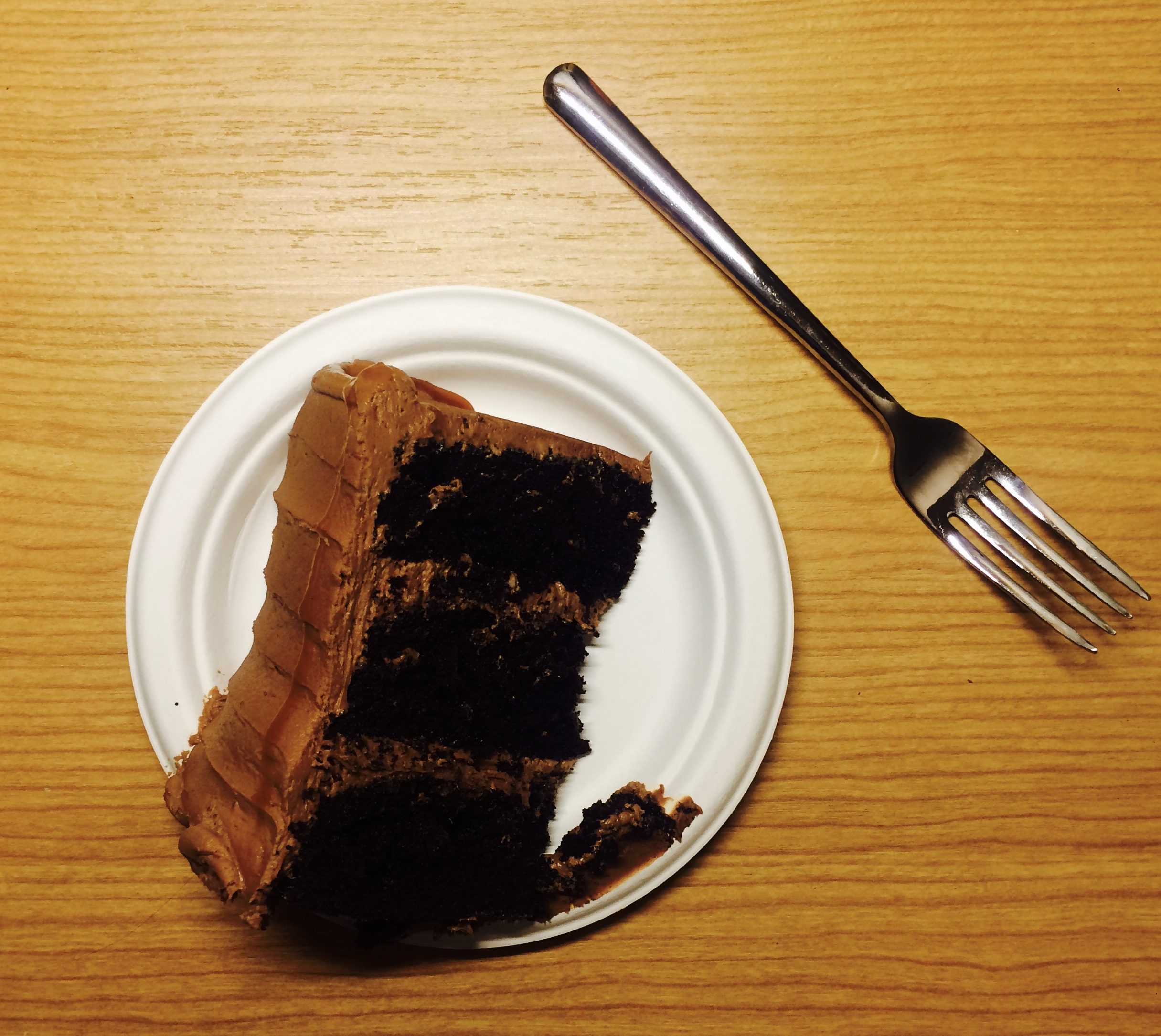 The texture was moist and full and utter perfection. This was the essence of classic cake upgraded to the pinnacle of celebratory dessert. It's not trying to do anything fancy, it's not reinventing the wheel, but it does what it is meant to do. So. Well. Billy's product mirrors the classic feel of its establishment's interior with the basic layout and idea of its cake. Not only was the texture of the cake impeccable, but the frosting was smooth and substantial and plentiful in perfect amounts between each layer and gliding up the sides and across the top of the cake.
Once it was determined that all was good on the texture front, I could fully explore that flavor. And my, were there layers to explore! The chocolate cake was the dream ideal of chocolate cake. When you're sitting around dreaming of that ideal slice, a slice of home but also a slice of heaven, this cake is the one that comes to the mind of the palate. I could not ask for it to be more chocolaty, but it did not try so hard that it attacked the mouth. This perfect execution of basic chocolate was perfectly paired with the bourbon salted caramel chocolate icing. With so many words in one description of flavor, it can often be difficult to get all of them through properly. Not here. It all starts with a light base of chocolate, a stream of caramel floats in and circulates throughout the mouth intertwining with the chocolate to create one Master Flavor. The bourbon then comes in with a staccato hit, adding a softly adult addition to the mix. This was all coming together in a sort of dessert-umami way that I have never experienced before. There was never a tired bite. This cake was not only giving familiar comfort, but thrilling exploration. This was the cake I dreamed of finding during my summer in Massachusetts. This was the shop that I dreamed of frequenting. This is the small town bakery giving me big city flavor that I have been searching for.
The next day my love was reinforced by tasting their peanut butter and jelly bar. The bottom: akin to peanut butter fudge and full of peanut butter flavor. The top: raspberry jelly and peanut butter striped diagonally in neat rows. Despite its beauty, I was concerned that the peanut butter/jelly ratio was going to be too in favor of the peanut butter, which has a tendency to overpower whatever it's with as is the case in poorly yet often constructed peanut butter and jelly sandwiches. I knew that either the fudge-like bottom had to be subtler, not too much Reese's like saltiness or hyper peanut-y flavor, or the raspberry jelly had to be of the highest quality, ready to cut through the thick blanket that is peanut butter.  Yet it did me one better and achieved both. The sturdy peanut butter bottom was substantial, serving a pleasant mouthfeel as well as the nostalgic flavor of sweet with a little bit of salty peanut. This would be a good enough product on its own, but it is brought to the next level with the sharp raspberry jelly serving as a perfect foil in both texture and flavor to the base. It brightened the palate and shifted the experience up like the peak on a roller coaster. Then came the smooth peanut butter for the denouement, escorting everything into place to create a final unifying flavor. It is tricky business to get the ratios of classic flavor pairings right, especially with heavy hitters like PB&J. In a sandwich one has the added struggle of bread to take into account. But this bar chucks the gluten out of the equation and truly honors all that is good about peanut butter and jelly.
This is also one of the few places that I have been back to before this post was even in development because it was so good! I was so in love with my experience there I was looking for any excuse to go back and hopefully get a slice of icebox cake, for now that I knew they could do regular cakes(if you could call that beautiful cake regular) I had utter confidence that they could sell me that unique cake. So, within the week I returned with Ndeye, this time to the more local Tribeca location, to show her my newest obsession. Unfortunately, they were once again out of icebox cake (that's what happens when you're searching for a famous item). But that gave us the chance to test if Billy's was the institution it seemed, or a one-time fluke. Since I got a chocolate-based cake last time, we decided to check out how they handle vanilla with their vanilla cake with vanilla buttercream. We also tested their bar game with a chocolate peanut butter bar, another classic combo.
With no surprise at all, Billy's delivered again. While the cake was just a little dry, it was not that the cake itself was dry, but a little dry due to it being the final piece sitting in the cake case. But as we ate it the inherent pillowy nature of the cake made itself known, so that was quickly forgiven. What helped this was the fact that the flavor was so on point. I very rarely will go for anything vanilla, as I often find the flavor to be worthy only of a shrug when I could get a punch from chocolate. But a good vanilla fills you from head to toe with sunlight and reminds you why the flavor is such a classic. This cake made me fall in love with vanilla. There was nothing fake or filler about it, it was a flavor worth indulging in like any other.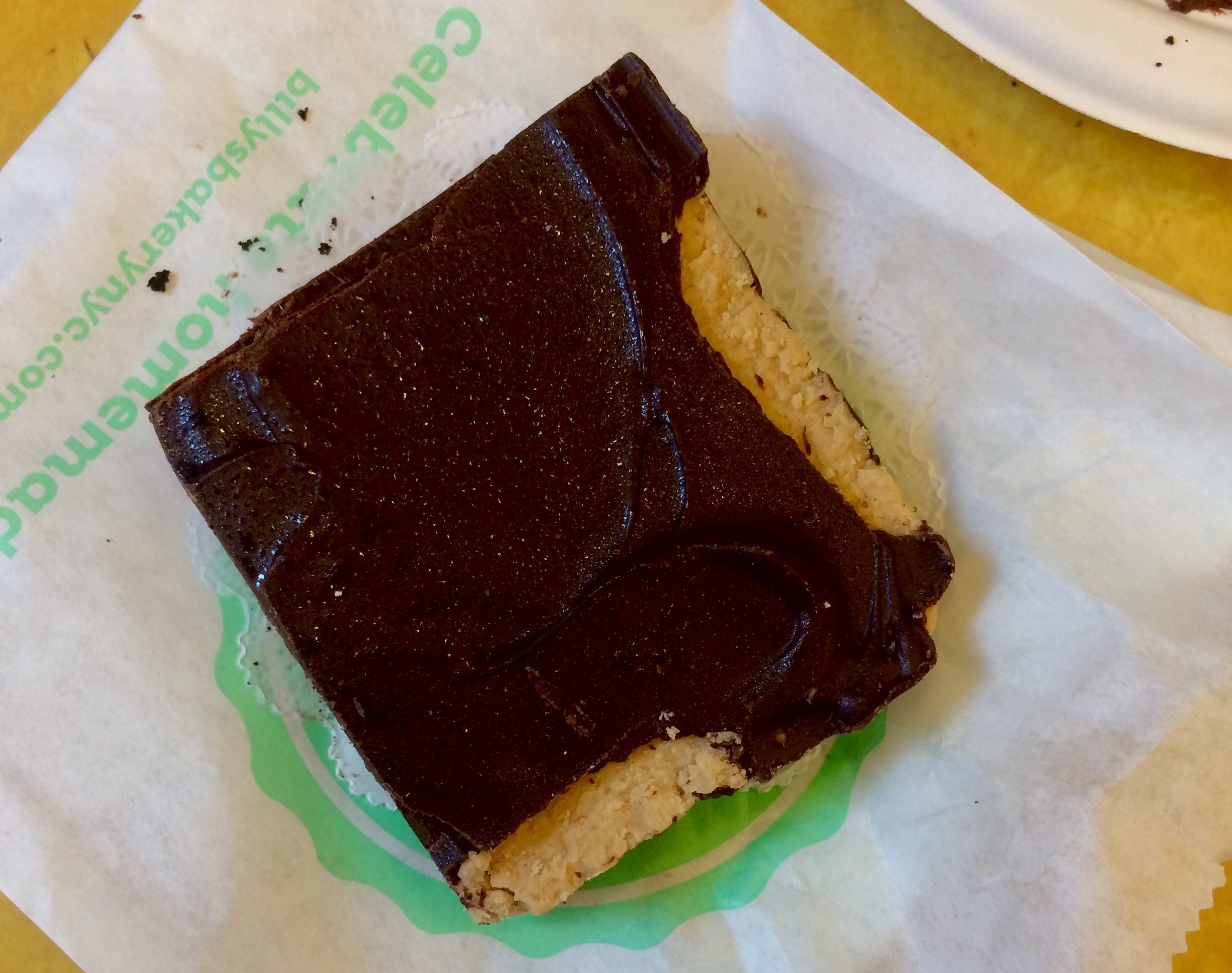 The peanut butter bar did similar justice to its kind. Not only did it contain the typical thick layer of peanut butter with some hard chocolate on top, but the bottom chocolate came in the form of cookie crumble. This added an extra textural element that you don't get in a lot of peanut butter bars, and as a cookie lover it was very much appreciated. It did pose a problem as there would be quite a crumbly mess created whenever a bite was taken. The cookie crumble bottom could possibly have used another egg to bind it all together, but I only felt chagrin because more crumbles on the plate means fewer crumbles in my mouth. The peanut butter once again was perfection, absolutely smooth and peanut-y to the perfect amount, and the chocolate hugging it in a perfect amount with just a little snap on top. Again, they have taken a classic flavor combo, put it in a bar, and knocked it out of the park.
After two visits to Billy's Bakery, I can surely say that they are one of my absolute favorite locations in New York City. Their shops feel like home, the perfect place to spend an afternoon with a friend or treating yourself, and their food is the ideal of whatever baked good you want. With four locations around Manhattan, there is always one within reasonable distance for you to get a slice of home at when you get that craving. Whatever that craving is, they can fill it for you. I may not yet have gotten their signature slice, but they have me hooked on just about everything else, and to me that speaks volumes. Billy's, I'll be back.