Despite being definitively autumn now and freshly in October, NYC has been having some hot days for the past couple of weeks. Though my spirit has been ready and raring to go and get some pumpkin loaves, hot teas, and ginger cookies, the weather has had others plans. Despite my constant attempts to don flannels and long pants and pretend fall is in the air, climate change has had its say, and summer culture has stuck around a little longer.
While there are many reasons to be upset about this, there is one thing that can help me cope. That, of course, is ice cream. And when, on one rather warm day, I realized it had been a year since Nick and I attended one of my first ice cream write ups – 10 Below – I knew we had to mark the occasion with another novelty ice cream adventure.
It is also important to note that I turned 21 this summer. Not only does this mark a new era of adulthood, but it opened up a whole new world of culinary possibility. This can be found in the substance directly, tasting the flavors of wine and beer and whiskey. But what I was looking forward to most, was finally being able to go to Tipsy Scoop.
Yes, an ice cream shop from which I had been barred for years, because to get a scoop, you're gonna get carded. There are plenty of baked goods and dinners that use a little alcohol in their creation. One doesn't have to be of age to eat them, though, because the alcohol is mostly cooked off and only a little added flavor remains. But at Tipsy Scoop, each scoop has enough alcohol to make it necessary to be of legal age. So, with me finally being legal, Nick and I commemorated the day meant for ice cream with some alcoholic sweet treats.
The Chelsea location we attended is small, not unlike most parlors in NYC where space is at a premium. And this wasn't so much of a problem when we first arrived, a couple people in line before us. My qualm with the space came both as those in front of us were taking their sweet time tasting their free two sample bites and deciding, and as the line grew behind us with a very large, very loud group celebrating a birthday. It soon became rather cramped, and the resonant "Woo!"s bounced off the walls incessantly. I was ready to get my ice cream and get out of the space as fast as possible. This all could have at least been accelerated by having more than one server behind the counter.
Eventually it was Nick's and my turn. While we both had ample time to consider our options, we were still in a state of indecision, and so we each took our two free test samples that we felt were deserved after our wait. Both of us were intrigued by the dark chocolate whiskey salted caramel – a mouthful but it sounded like a mouth full of good stuff – so spot one of Nick's sample was taken with that, and followed by the red velvet martini flavor. The dark chocolate whiskey won out and he purchased his scoop of that while I tried out the vanilla bean bourbon and their seasonal flavor – spiked spiced pumpkin pie. I knew I was getting the dark chocolate whiskey, so I was searching for the perfect pair. While I would not normally reach for a vanilla, it seemed apt to see how the alcoholic flavor would interact with a chocolate and vanilla ice cream. The vanilla and the bourbon worked quite well, providing a good platform for some richer flavor to play off the lightness of the vanilla. I thought my decision would be made, but as I tried my pumpkin sample I realized I was a fool to think I would go with anything other than that. Filled with the warm flavors of fall with the addition of a little bite, the spiked spiced pumpkin was the ideal cure for this unfortunately warm fall day. With our cups in hand we vacated the tiny shop and dove into our scoops.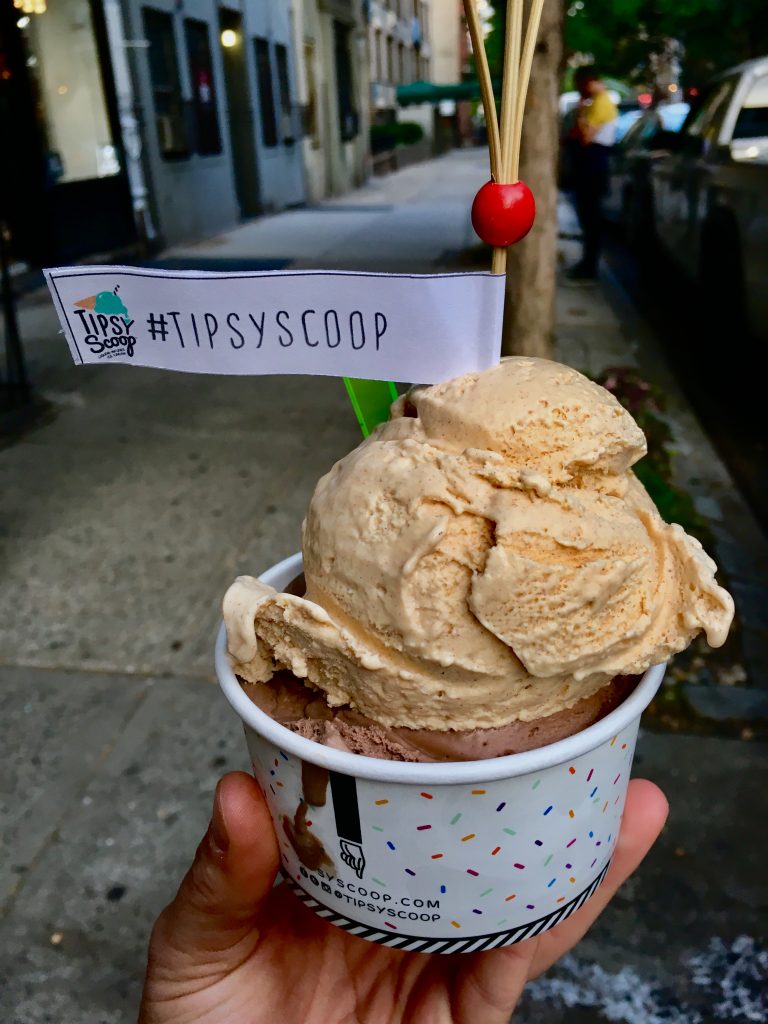 While the first thing I was looking for was the alcoholic flavor that made this ice cream famous – and it did in fact come through in well balanced proportions – what struck me immediately was the smooth, soft texture. With no mix-ins, I knew the ice cream itself was going to have to be truly stellar to get me invested. This was achieved with an ice cream that was rich and creamy, a texture seemingly more like gelato because of how un-airy it was. The alcohol content had clearly not gotten in the way of a genuinely scoop. With each scoop being of a decent size along with its indulgent consistency I definitely felt that I was getting my money's worth.
On top of that, the flavor was just as complex as the description advertised. As mentioned, the spiked pumpkin was the comforting flavor of fall spices we all look for in our pumpkin spiced lattes, with a little shot of rum added in there. It was like having a slice of pumpkin pie on a chilly fall night paired with a drink rather than coffee or hot chocolate. This was perfect when paired with the dark chocolate whiskey salted caramel, which somehow managed to hit each one of those notes. The chocolate was, in fact, dark, laced with the salted caramel, quickly followed by the whiskey. These flavors built on each other in a similar fashion to my own bourbon salted caramel brownies. The chocolate provides a full-bodied base substantial enough to carry, but not compete with, the caramel that is well-salted, but not so salted as to drown out the important alcoholic notes. Together, these two flavors were the perfect fall flavor fest that my soul wanted, but the cool sweet treat the weather demanded. I was able to trick myself into the autumnal feeling with some well-measured ingredients and pleasantly dense ice cream.
Did I get drunk off of it? No. Two generous scoops of the stuff isn't gonna get you done in for the night. But as the title implies, I did get the slightest bit tipsy. Perhaps it is because I am on the shorter side, or perhaps it was wishful thinking, but I would say that there was, indeed, just enough alcohol in there to require carding, rendering their marketing truthful. So not only is Tipsy Scoop a clever product for a city that runs on its night life, as well as being able to follow through on what it promises, it's also just darn good ice cream. I would happily buy a pint to bring back to my room in place of getting a pint of Talenti gelato, or grab a scoop if I'm craving some ice cream in the Chelsea area. In a city full of gimmicky, Instagram foods that rarely follow through, it is gratifying to have one out there that delivers.