There was a period of time in popular western baking culture where the cupcake seemed to be reigning supreme. You want to be the hot new shop in the area and get your 15 seconds of fame? Start a cupcake shop! Cupcake recipe books littered the shelves of a bookstore's cooking section. Birthday and even wedding cakes were being replaced with elaborate displays of cupcakes.
Luckily, I think we have escaped this difficult time. Cupcakes generally returned to the beloved but unsensationalized status from whence they came. Dedicated readers and friends know the great relief this brings me. I am a cake person through and through who simply cannot abide the idea of replacing all the glory of a beautifully constructed wedding cake with some elegant stacking and skilled frosting used to beautify cake unnecessarily cooked into cylinders and wrapped, ultimately creating a messy and decidedly un-elegant eating experience that will never satisfy quite like the perfection that is a forkful from a layer cake. I have had some great cupcakes. Cupcakes that excite me. There are places I have forgiven for only selling cupcakes because the cake is just so good (Two Little Red Hens. I'm talking about Two Little Red Hens). But that has not swayed me so far as to get excited about getting a cupcake in general.
So I have naturally put off even peering into Little Cupcake Bakeshop. Despite walking past it countless times, I have never looked farther than the sign. After all, cupcake was in the name. It was probably a surviving institution of the cupcake's heyday. No need to waste time, money, and calories on a creation that I'm pre-disposed to not like.
But as I scanned my list one day I lingered on the name and decided to do a little googling to see if their name was perhaps a misnomer and there was more to their business. Shockingly enough, there was! Not only did they sell cake slices along with their cupcakes, but the flavors available were nearly as vast as the cupcakes as well. The full cakes seemed just as important to the business as their smaller counterparts. They also seemed to offer a couple of other baked odds and ends in the form of bars and cookies, and serve their own homemade ice cream. There was perhaps more promise there than I had given them credit for. After a day in the park full of reading and writing, I decided it was time to give them a chance. Cap off an ideal weekend day with a slice of cake that hopefully would overcome the prejudice I had held against the shop for years.
I arrived at the shop and found it rather packed. It was a Saturday evening in the lower east side and people were out to treat themselves during a night of fun. Luckily, the staff was efficient in making their way through the people, organizing the line and moving people long without forcing decision before their time. I was intrigued a couple of the flavors, the cookies and cream whose frosting was encased in crushed Oreos, the cookie dough, and the peanut butter and jelly. But true to my fashion, I could not deny the dark chocolaty goodness that was the blackout cake. The knife sunk so satisfyingly into the cake and separated off a good-sized slice for me to take to a small marble table by the wall.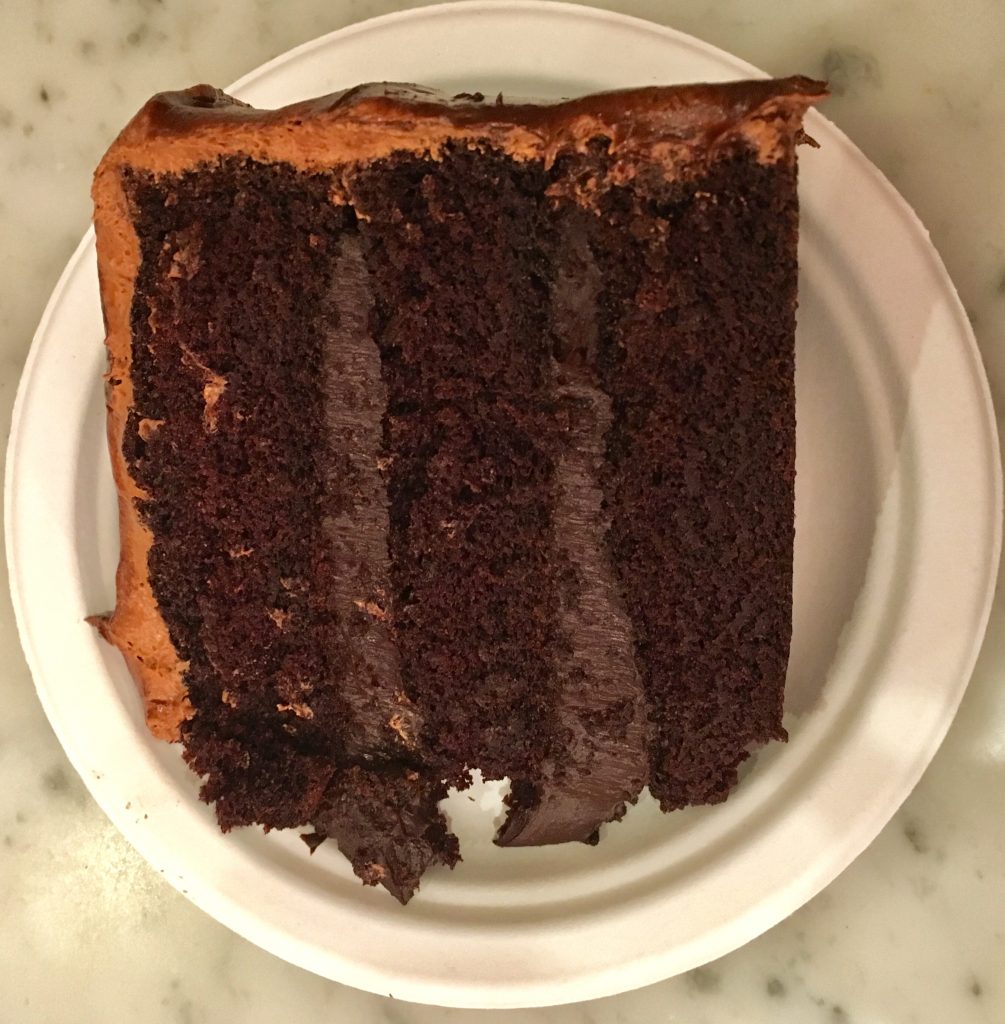 For those unfamiliar, a blackout cake consists of layers of chocolate sponge separated by chocolate pudding and covered in chocolate frosting and often at least a little chocolate cake crumbled on top. It's the chocolatiest of chocolate cakes. But while each element is, at its core, chocolate, the kinds of chocolate one gets from each should be distinct. The cake, the pudding, the frosting; each part should let you experience chocolate in a way the other does not.
The slice before me was off to a good start visually. The crumb was not too tight, but not too dry and crumbly. The layers were even and clean, and separated by equally even and sizable layers of chocolate pudding. This was not the pudding sponsored by Jell-o you had as a youth in a snack pack though. It was thick, a pudding-like ganache. Substantial in a way akin to biting through a decadent truffle, but with the distinct flavor of pudding. All was held together by a frosting (see last week's post) that was light, not fighting for attention with the pudding, but still smooth and silky rather than whippy. It was the picture of my layer cake dreams that so often float through my mind.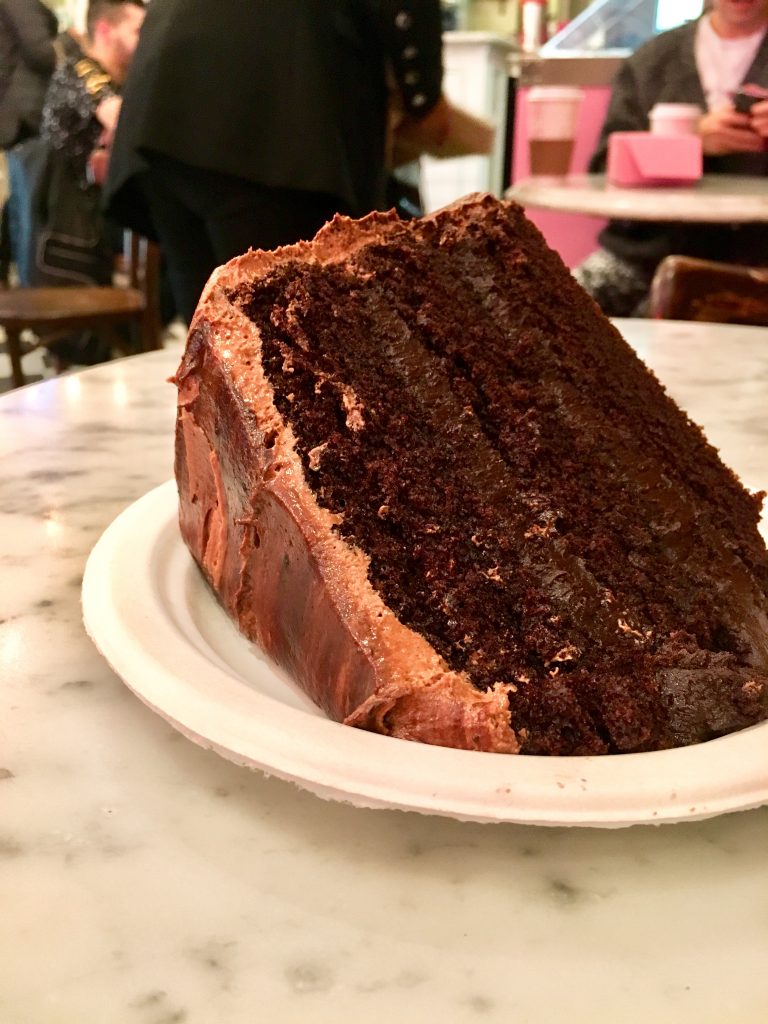 It was truly the Chocolate Experience I was looking for. Just as each layer was visually distinct, there was the subtle chocolaty difference I was looking for in each component. The sponge was forgiving and soft and perfectly moist, which played perfectly with the rich pudding that turned the chocolate dial up a bit, just a little deeper and darker. The frosting was the most milk chocolate of them all, a creamy finishing touch. I took pleasure in taking my time, slowly letting my fork collect a bite. A stranger at the table next to me remarked that they would be surprised if I made my way through the slice by the new year all by myself. A foolish remark in a number of ways: 1. Why would one ever comment on the amount someone else is consuming? 2. They clearly do not know my cake consumption abilities 3. They did not have a slice of cake themselves, and did not know what they were missing. The only reason my consumption of this slice might extend to the new year would not be because it was so utterly big (which, while it was a fair size, was not true. It was just about the perfect amount), but because I was trying to extend and savor my time with it.
It wasn't the highest-grade chocolate, not a bomb of dark and full flavor in each bite. It was not a slice that makes you reconsider what you had even been calling cake before. But it is a slice of cake that is everything a slice of cake should be. That will remind one why a slice of cake is a hallmark of so many celebratory situations. Because when cake is done well, even the highest-grade creation of another confection will not comfort and satiate like a slice of cake. Though perhaps during my next visit I will try one of the cupcakes that gives the shop its name. After all, my initial resistance towards them was proven unfounded. Perhaps they could even get me to buy into their eponymous product. And if not, I'll at least have a slice of cake available to make up for it.