There are certainly the instances throughout this quarantine where the foods that make me feel the best are the carb-loaded, sugar-spiked, nostalgia inducing ones, some of which I've covered the last couple of weeks. But a lesson I have learned over the past couple of years has been just as important now as ever: What I eat affects how my body feels, which in turn, affects how I feel. This simple symbiosis is one often professed, but in my case at least, it takes years of malpractice for it to really set in. I happen to be the inhabitant of a body and brain with some less than ideal, persnickety preferences for feeling its best. So amidst the chicken curries, calzones, and cocktails, here's what I've been having for a bit of balance to keep me sane.
Bread: Homemade Whole Wheat
My Dad is a master at being able to find things on the internet. It is this skill that has made our house the very excited recipients of two sacks of whole wheat flour, a sack of rye flour, and a small sack of buckwheat flour. The bread baking possibilities have been vastly expanded, not to mention the ability to experiment with other baked goods (hello buckwheat chocolate chip cookies and rye waffles). But before any ambitious undertakings, a simple loaf to get a feel for the flour was necessary. So, a simple whole wheat sandwich loaf was made to initiate the fun new flour.
While bread made with regular old AP or strong white bread flour already takes some time with their first and second proofs, their construction is pretty simple. But when whole wheat flour is added to the mix things get a little more complicated. Homemade whole wheat loaves have a dangerous tendency to come out dry and dense. What I gather from some casual googling is that this has something to do with a lower gluten content, which for scientific reasons makes it have a difficult time absorbing moisture and necessitates a little extra love when it comes to kneading time. To help mitigate these problems, it's common for bakers to use only part whole wheat flour mixed with strong or AP. But for whatever reason, I was dead set on 100% whole wheat. What can I say, we had the flour! And I wanted a loaf to celebrate that fact. So I settled on this recipe from Serious Eatsto use as my guide for its simple ingredient list and helpful abundance of explanation.
Luckily, I happened to be up early that Sunday morning to make some Sticky Date Buns that will be circled back to in the future. While my buns were in their first round in the oven, I quickly mixed together the autolyze – a preemptive combination of the flour and water to give it plenty of time to hydrate fully – and let it sit for a couple hours. After some mixing, kneading, and two rounds of rising, it was ready to bake in the afternoon. In the oven it went with a perfect two-inch rise over the edge of the pan for 45 minutes. But when I turned the oven light on to check up on it, I saw a concerning slump in the middle of the loaf. Could it be? A sunken loaf?! But I hadn't opened the oven a bit! And it has risen so well! What did I do wrong! Maybe my eyes were lying. Maybe it would fix itself by the end of its baking.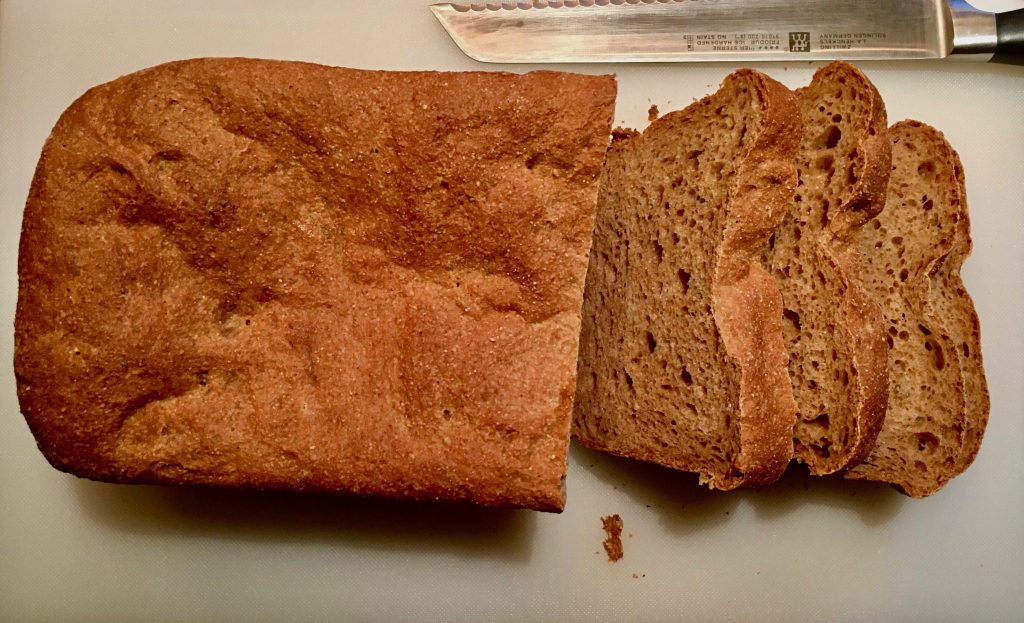 When it emerged later, though beautifully brown and nutty smelling, the divot in the center remained. Nightmarish visions of a dense, squishy loaf filled my head. But when cut into at dinner, no such texture was found. Instead, it was the idyllic vision of a whole wheat sandwich loaf! Plush and full-flavored, it was everything I love about a whole wheat loaf. The only issue was the nasty little dip. After some further googling, it seems that some more kneading will be the cure in the future. But if the only issue was cosmetic, I will count that as a win. A very tasty win.
Gadget/Drink: Blender and Breakfast Smoothies
I am a creature of habit. Every one of my weekday mornings looks almost identical from 6am-9am down to the minute. While maintaining my schedule at maximum efficiency is important to me in regular times, it has been especially valuable to me now, being one of the most important things I do to keep life feeling real and somewhat akin to the one I had been leading Before. A big part of keeping this schedule has been my morning smoothie. Smoothies can get a bad rap. And honestly, I get it! When one thinks the phrase, "Drinking a meal", joy is not often the emotion that is sparked. Personally, I tend to see images of people with lockjaw drinking proteins that aren't meant to be in liquid form.
But you know what I do love? Milkshakes. Do you know what else? Fruit. And while some smoothies can be unfortunately thin and flavorless, some can be thick and fruity and sweet and as close to a milkshake one can get to without ice cream. For a while, this smoothie ideal was difficult to achieve, as I was making them with an immersion blender in a metal container. An immersion blender is a wonderful tool, but it is not interchangeable with a blender, just as a food processor isn't either. But our recent acquisition of a Ninja blender has lifted my morning smoothie game considerably. While with the stick blender I was constantly fiddling with frozen mango chunks trying to get the blade to catch them, inevitably having to add more liquid than I really wanted to get it to mix at all, this blender lets me add just enough to get my fruits to come together into a thick, frosty mixture. And if I want to add greens, no longer am I finding small flecks of leaves, unable to get fully blended into the mixture, reminding me that I'm essentially having a liquid salad with odd proportions. It all comes together smooth and even.
And while the fact of the smoothie remains the same, there is a lot of flexibility when it comes to flavor. A base of banana is consistent, a simply irreplaceable ingredient in terms of what it adds for texture. From there I add strawberries, blueberries, peaches, mangos, prunes, dates, cherries, raspberries, or whatever other combo of fruits sounds good to me that morning. Sometimes my fruit combo and a little almond milk, or even just water, is enough for me to get an energized, fruity start to my morning. Sometimes I throw in some spinach if I feel like it. Always a pinch of salt to bring out the flavor. But other days, I feel like adding some vanilla or almond extract, peanut butter, ginger, cinnamon, cloves, nutmeg, turmeric, or a squeeze of honey. The fruit is a lightly painted canvas that I can embellish to my heart's content. The result is a breakfast that reminds me of peach cobbler, peanut butter and jelly, or mixed berry pie. It is notthe same as a milkshake. But it is tasty and texturally pleasing in its own right. And even better, it provides a light, plant-based jump to get me through my most productive hours of the day.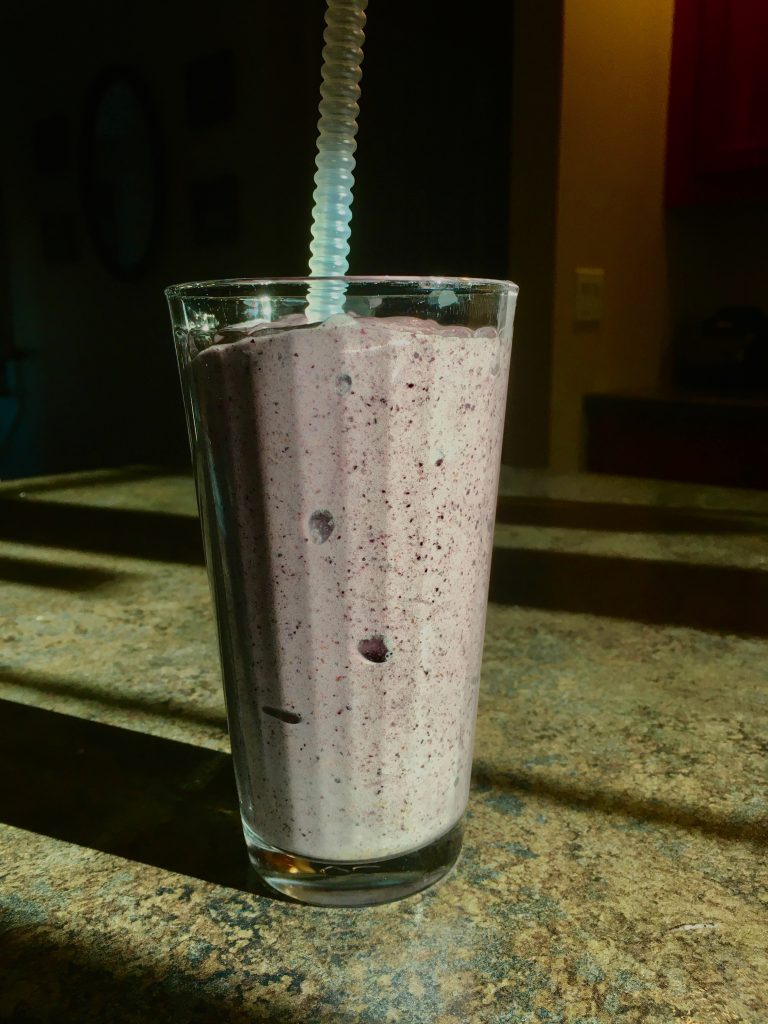 Meal: Salad Lunches
Salads are another thing that can easily conjure some sad images. And there are certainly a lot of sad salads out there (see, most side salads at mid-level restaurants). There are also a lot of things that are called salads that are usually a protein or carb bound together by well-seasoned mayo that are not what I mean when I talk of salad, but I enjoy nonetheless from time to time (see, tuna salad, potato salad, or macaroni salad). The salads that I look forward to at lunch time are indeed leafy, green, with whatever mix of available veggies like radishes, carrots, mushrooms, or tomatoes, maybe some beans, or perhaps even some protein from the previous night's dinner. But more often than not, it's a leaf-forward affair. What makes it an affair to remember is all in the dressing.
You know how when you go to a nice brunch placeand you order an egg dish some of them come with a side salad that's really just a spring mix of greens? But they are the best dressed greens in the world?Often mustardy. A little lemony. It's honestly one of my favorite parts of brunch. That's what I look to channel in salad 90% of the time. I achieve it through a mix of olive oil, white/red wine or apple cider vinegar, lemon/lime juice, Dijon mustard, dill weed, and a little salt and pepper. I never measure. Just pour, dollop, shake, and mix until it looks and tastes right. I tend to make it in the bowl I'm gonna have my salad in, then throw the veggies on top. For some reason this tends to get a more even coverage than drizzling it and tossing. The result is a bright and zippy bowl of veggies that isn't trying to hide what it is beneath a heavy ranch, but also not naked and sad.
Dessert: Pizzelles
Contrary to what some may believe, I don't bake something new every day. Most of my big bakes are left to the weekends after having the week to plan and research what I'm going to make, and when I have the time to spend alone in the kitchen without trying to multitask. But that doesn't mean I don't finish off my day with something sweet during the week! And one of my favorite weekday treats are Pizelles. These thin and crispy Italian wafers are light and lacey and a tasty snack to have with tea on their own. But even better with a smear of Nutella, or a little peanut butter. Perfect for when you just need a little something in between dinner and bed, or even in between lunch and dinner around afternoon teatime. And the intricate design makes them feel a little fancy, even though they're coming from a package and you took no part in making them! And sometimes that's the simple satisfaction you need at the end of a long workday.
What foods have been fueling you forward throughout your work from home days? What go-to meals have been keeping you grounded in time and reality? What have you been doing to keep the body and spirit tended to as best you can? Feel free to share with me! And if you want me to keep sharing with you, enter your email in the subscribe section over on the right and I'll drop by your inbox every Friday with what I've been up to in the kitchen!