When November is starting to wane after that fourth Thursday of the month, the nation's fixation on pie subsides and attention is instead devoted to cookies. In my family, the holiday season kicks off on Black Friday not with early morning deal searching and store raiding (especially not this year), but with the first of many batches of cookies that make the Christmas spirit alive again.
There are annual necessities to strategically work through along with shiny new recipes to try and of course the daily cravings to negotiate. But the most important factor keep in mind with the first cookie baking marathon of a long weekend is ship-ability. My gift to my extended family has long been some sort of sweet treat package, but the contents can vary. I try and include a variety of flavors and form factors to please any palate while not including anything liable to disintegrate, grow stale, or melt terribly during its journey. Especially this year, with mail taking weeks longer than expected to arrive, if it arrives at all.
Typically, I also try to not be too risky with what I bake, not wanting a new recipe to go awry and have little time to make a new batch before needing to send them out. But with more time at home and not having to hop back to school that Sunday, I took some chances. The chai-spiced shortbread and penuche fudge were fairly simple and dependable (though candy-making and I have what I would characterize as a generally tumultuous relationship. Penuche is one of the few endeavors involving a candy thermometer that I have consistently turned out a viable product). But for a little something different I also threw in some ma'amoul – a Lebanese cookie of shortbread-like consistency wrapped around a filling of dates, nuts, or in my case both – and honeycomb candy with and without a coating of chocolate. Though my sizing and shaping took some tries to get right, I ended up with some fairly consistent looking ma'amoul resembling ushanka hats filled with a wonderful paste of dates, walnuts, pistachios, and cinnamon. And the honeycomb, while creating quite a mess of sugary powder from the breaking process, turned out airy and, well, honeycomb-like in texture, with the perfect salty-sweet crunch. We still have some leftover that is being kept in the pantry, the larger chunks ready to be snacked on, and the smaller, more powder like excess perfect for when there are truffles to coat or ice cream to top.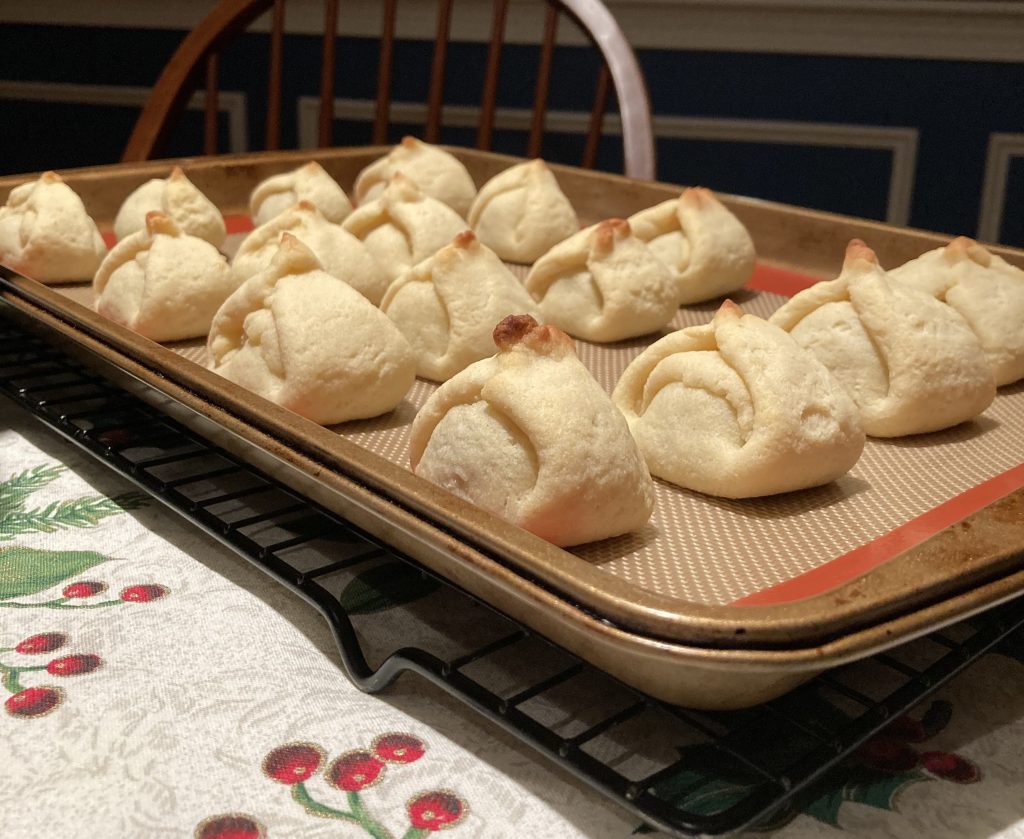 Speaking of truffles, they were on the menu for the second weekend bake-a-thon. Well, not truffles exactly, but truffle-like bourbon balls. With the long-distance gifting complete, it was time for the local gifting. And with time and package-handling in our control, there was a little more freedom in what to include. Therefore, I could try my hand at chocolate-covered bourbon balls without fear of melted chocolate smearing everywhere, making for tasty wax paper rather than spherical treats. Though I hope I can develop a packaging method that lowers that risk for the future, because with how quick, easy, and deliciously they turned out, I am eager to make them a regular part of the yearly cannon. A quick whiz of Nilla wafers, pecans, cocoa powder, maple syrup, powdered sugar, and, of course, the titular bourbon, is all that's needed to make the dough, scoop the balls out onto a sheet. The most effort comes with dipping the balls in melted chocolate, tapping off the excess, and setting to rest in the fridge. But this can be sidestepped by opting to roll them around in some additional powdered sugar and cocoa powder. The result is a decadent ball of chocolate with a nice, but not overpowering, bourbon undertone. I dream of days when a batch can be made for a holiday party to be had surrounded by friends in their best sweaters, sipping a French connection or glogg to offset the deep chocolate morsel.
The richness of the bourbon balls was rounded out with a light, cakey Italian pistachio cookie. Half new and half classic, I decided to try one of the common variations on the standard Italian cookie my family has done before. The texture of the cookie can vary greatly from hard and crumbly to light and spongey. Both are good in their own right, but what I wanted was the cakey kind (one of the precious few times I'll want a cakey-cookie) typically made with ricotta in the dough. However, with no ricotta in the house and a specialty run to the store out of the question, I improvised and made a 1:1 substitution with full-fat Greek yogurt. The result was just as airy as desired with a little added tang that made for an enjoyable surprise and added an extra layer of depth to the delicate pistachio flavor. If we have ricotta laying around next time the craving for this cookie comes I'll certainly try it, but I'll also happily make what was a substitution a part of the regular recipe for us in the future. And I am certain there will be a future for them in this house, as they are by far one of the most simultaneously simple and high reward cookies of the season.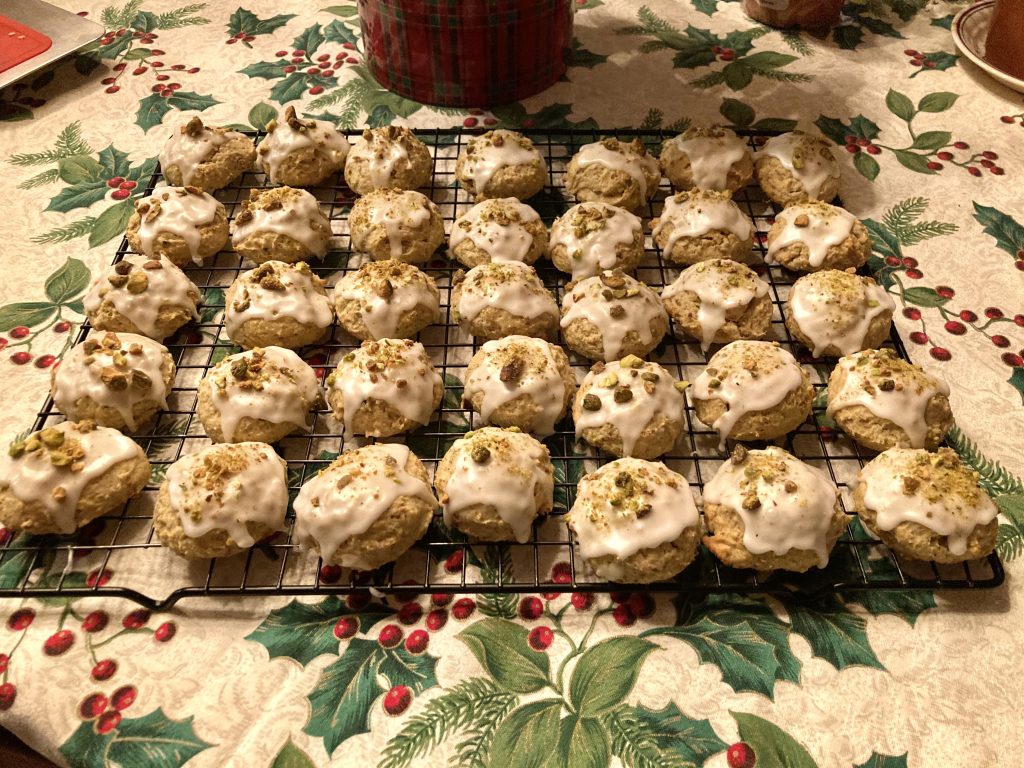 The last cookie of the bunch was yet another crack at a seasonal staple that was new to our kitchen: rugalach. The Dough? Easy. The filling? Even easier. Assembly? Not so much. Rugalach presented perhaps the biggest learning experience of this season. While I understood the process intellectually, when it came time to roll out the dough, spread the filling, cut, roll, and bake, little decisions along the way made the difference between picturesque crescents of perfectly proportioned cookie and filling, and logs sitting in sticky sugar puddles that, while tasty, were not what I would call gift-able.
The first and most important lesson was that, in this case at least, bigger was better. While a bite sized rugalach is adorable, cutting my 9-inch circle of filling covered dough into eight pieces turned out rugalach that could barely hold any filling, and preferred to let it ooze out the sides. After discovering this through difficult rolling and a less than ideal first bake. I tried cutting the rounds into six cookies, which allow the filling to marry with cookie more evenly with a more recognizable crescent shape.
The second was getting the filling right. There could not be too much, or the cookie layers would not hold it together. And it could not be too architectural, or it would not roll up smoothly.  The first combo – raspberry jam sprinkled with cinnamon sugar and chocolate chips – suffered both from over ambitious quantities wrapped in too small a container. The chocolate chips did not melt fully and made everything a bit uneven, and the jelly seeped out the sides of the too small cookie, making it more fruit glazed than filled. A second jam-filled attempt with a larger cookie and no chocolate chips was less sticky, though I think I'll still need to do some fiddling with proportions before I feel entirely happy with it.
The other two fillings though – Nutella with crushed pistachios and melted chocolate with crushed walnuts – stayed tucked nicely in their rolls. With the nuts well-crushed in the mortar and pestle and sprinkled evenly over a thin layer of Nutella or chocolate, each cookie was perfectly balanced, each bite gaving you a bit of everything. As long as the dough was kept in the sweet spot of well-chilled but pliable, those fillings make for easy, but visually interesting and tasty cookies to round out the set.
One non-cookie did sneak its way into the lot (I'm counting the bourbon ball as cookie-adjacent). After seeing it in my recipe scrolling weeks before, I had been itching for the right time to make this sticky cranberry gingerbread. Packed with sizable amounts of two different forms of ginger and dotted with dollops of jammied cranberries, if there was to be a sponge made to break up the cookie deluge, this would be it. And while a little involved with multiple saucepans happening, a bake on the longer side (especially after dealing exclusively in quick-cooking cookies for so long), and a solid amount of time needed to truly cool before slicing, the product was well worth the wait. It is, in every way, the embodiment of Christmas. Packed with warm spices that are brough to life with bright, fruity cranberry gems in every bite in a sticky square package. And being so moist, it lasts long enough to be a perfect candidate for shipping to loved ones. Not a cookie, but impossible not to recommend.
There were, of course, the series regulars worked in throughout the remaining days off. Oatmeal scotchies, the eternal signal of the season and a favorite of us all. Sugar cookies iced in bright red, green, and blue. A cookie passed down from my Dad's side of the family called "Santa's Jelly Fingers" that are essentially oblong thumbprint cookies, and the nut-coating process for which it is my mission to streamline. Two types of gingerbread cookies; one a yearly must from my Mom's childhood Betty Crocker book that produces a softer, more mild gingerbread person that has been the standard for gingerbread my whole life and that, of course, no bakery ever seems to meet, and a recipe I tinkered with to make a little orange-y from Food Network that produced a spicier, crisper cookie, perfect for gingerbread house making.
We had made gingerbread houses from kits before, but never from scratch. I didn't want to go too crazy and make a ginger-estate that would take up an entire table, just a quaint little cottage to decorate. I chose the recipe mostly for dimensional reference, riffing with amounts of orange, cardamom, and nutmeg to make it interesting. I made stencils out of parchment paper, cut out rectangles accordingly, and baked hoping they would all come together without gaps. Normally, precise measuring and trimming is not my forte, and I very much expected one side to be a little lopsided and everything needing to be cut and baked again to make it stand. But after some light post-bake trimming to straight some rounded edges from oven induced puffing, only one side ended up being too wonky for assembly. After recutting and baking, all pieces fit together just right, with just a bit of royal icing needed to hold it all up rather than fill in dreaded holes.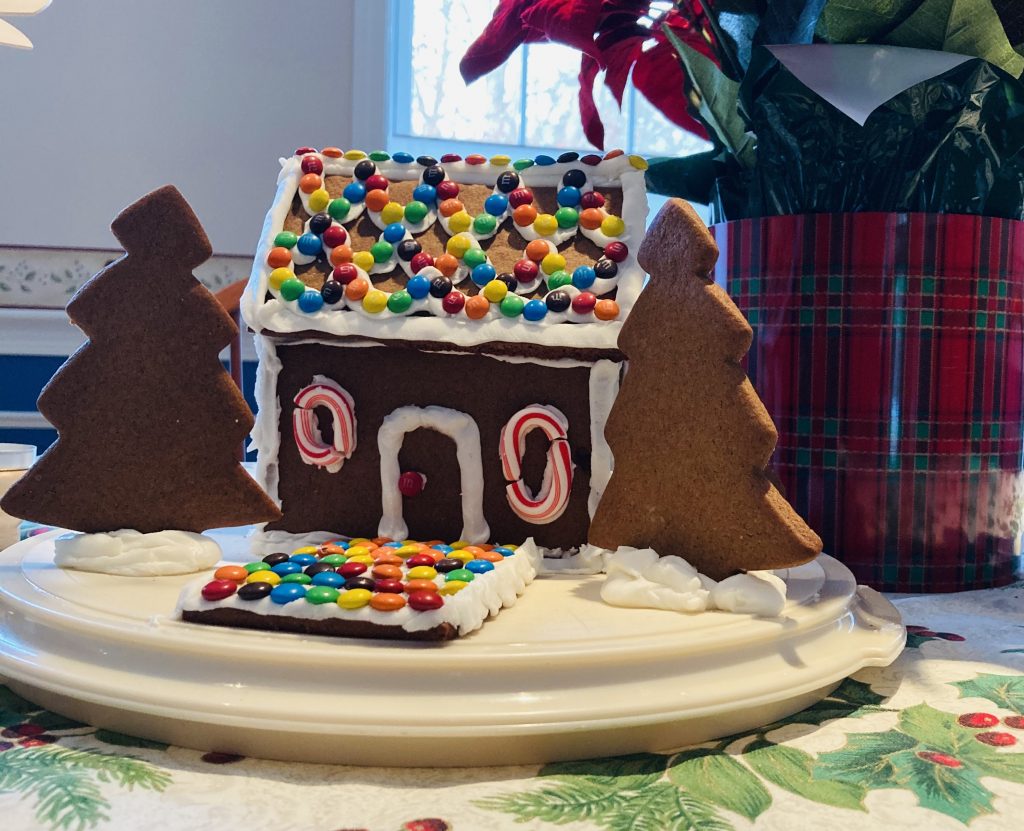 With the excess dough that didn't need to be used for a second attempt, I cut out a few trees to place around to complete the tiny scene, and some people just for eating, for it is my duty to test flavor while my structure stood unbroken for the month. These cookies were much snappier than our usual in a more traditional gingerbread way, and delivered on the spice with a fragrant orange undertone as I had envisioned. They made for a wonderful post-house decorating dessert after careful piping, M&M organizing, and precise candy-cane breaking. For a first try, I am rather pleased. I am definitely excited to give it another go next year, especially after baking up another set with my sister just for eating where she recorded measurements and processes, as I didn't record my adjustments the first time, risking the true recipe being lost to the ether. It is a different thing entirely from the gingerbread of our standard repertoire, and I think both will just need to be worked into the future for their individual purposes.
Other cooking and baking occurred throughout the month. But the cookies, both for gifting and for family, were definitely the stars as they are every December. While I am a fan of project-baking, taking hours and days to produce one single, grand product, cookies are always a wonderful respite to which I return at the end of the year. For the most part, they are quick, easy, and turn out a satisfyingly abundant amount. Assembled together on a plate with a glass of eggnog for dunking and sipping, they provide a cohesive variety, leaving one feeling accomplished.
What have you been baking to close out the year? Sticking to the family classics, exploring new horizons, or vacillating between the two? What is you goodie-box shipping method? I'd love to hear!
The social construction of time may tell use that last year is over, but the troubles from it are still here, and a lot of people could use a hand. If you're in a position to give places like the Nashua Soup Kitchen & Shelter, or whatever similar organization is local to you, they can still use the support to do what they do.