The windows have flung open, shorts added as contenders in the wardrobe, and the first lobster rolls and ice cream cones have been had sitting at a sticky gray picnic table listening to motorcycles loudly glory in their inaugural drive of the season. I think it is safe to say that spring has sprung here in New England. Though the forecast does currently have our week ending with a bit of a snow storm, so as springy as it ever gets here in in NH. But so far, the weather has worked in relative harmony with the slew of holidays that signal the emergence from our wintery caves spring who, all of it coming together – along with shots getting into arms – to bring a sense of anticipation and hope in the air. Stereotypical associations – re-birth, new beginnings, renewed hope and joy – are stronger than many before.
So too goes the direction of the kitchen. I'm one lunch away from finishing off the last of a "clean out the fridge" soup that got relegated to the freezer for future leftovers and thinking of its replacement with something to accompany a crunchy rib of celery. My trip to the store today had me glancing less at the squash selection and more to brilliant stalks of asparagus in their shallow water baths, begging to be enjoyed while still in their prime. The grill is beginning to take up space in the brain, if purely to scorch some medallions of eggplant dressed with olive oil and oregano to have on any of the myriad of breads my hands can't stop making, no matter what the weather. These menu transfers tend to happen in fits and starts at first, but every season seems to have that one meal that serves as a symbol. A statement that "We Have Arrived". And in our house, that spring feeling is trumpeted in with Easter.
While Ham is the celebratory stalwart of many a kitchen, particularly on the Christian Heavy Hitters in America, we have been a lamb for Easter family for as long as I can remember. Lamb has had a small bump in popularity during the pandemic due to both the supply chain snafus of more popular meats and the increased time for foodie types to explore their horizons at home. But even with its rise, lamb is still relatively low on the radar of many home cooks. Which is a darn shame! If I'm planning a slew of meals and one has to include red meat, lamb would be my immediate go-to. It started to make its way into our protein rotation a few years ago after finding a purveyor at the Concord farmers market, and ever since then it has been well-used in many forms. Lamb burger with some pickled red onions, arugula, quark, and tzatziki? Shanks stewed with rosemary with a bungle of carrots, potatoes and parsnips, the leftover stock saved and used to make the best of soups? A leg crusted in garlic and herbs, roasted in the oven to perfume the whole house? Maybe take the leftovers from that and slice thinly to throw on some pita with olives? A hearty yes please to all.
This Easter we found ourselves with some chops and a beautiful day, and it seemed there was no other option than to submit to the call of the grill. That morning, after a slow and thorough thaw the night before and while the compulsory hot cross buns were doing their second proof, I coated the chops liberally with salt, pepper, MSG, and some Herbs de Provence with a little extra thyme thrown in. This gave them plenty of time to get infused with flavor in the fridge and the salt to do all the juiciness-preserving magic it does before hitting the grill.
The low effort of the lamb left me plenty of time to focus on the rest of the menu. Though, in the end, not that much time was needed for all that either. The beautiful chord of asparagus I had picked up the day before, the culinarily appointed mascot of spring, needed only a toss of olive oil, lemon, salt, pepper, and a bit of grated parm before a quick 8 minute kiss in a 425 oven, which could be done at the tail end of the new potatoes roasting at the same temp with a little rosemary. I had already made the mint and lemon vinaigrette for the radish, fennel and arugula salad, which just needed a quick chop. Try as I might to stretch myself to thin in the name of a holiday meal, the natural gifts that spring had to offer demanded little to shine their brightest.
The table burst with green from the shimmering stalks of asparagus, to the arugula, and even the herb-laden lamb, in a visually symbolic celebration of good things to come. The lamb burst with its distinctive unctuous flavor, the chops small but mighty. The fennel's raw crunch and anise-y perfume mingled perfectly with the bitter arugula, the mint and lemon just enough to lighten up their seriousness. The asparagus achieved its cooked-yet-still-crunchy ideal, good for one night and one night only, unless you are one for limp reheats. Potatoes smoothed things out and gave a bass note that both enhanced the rest and was  a winner in its own right in its own, humble, potato way. A chardonnay, just buttery enough, rounded it all out nicely, proving that red with red, white with white is a rule meant to be broken.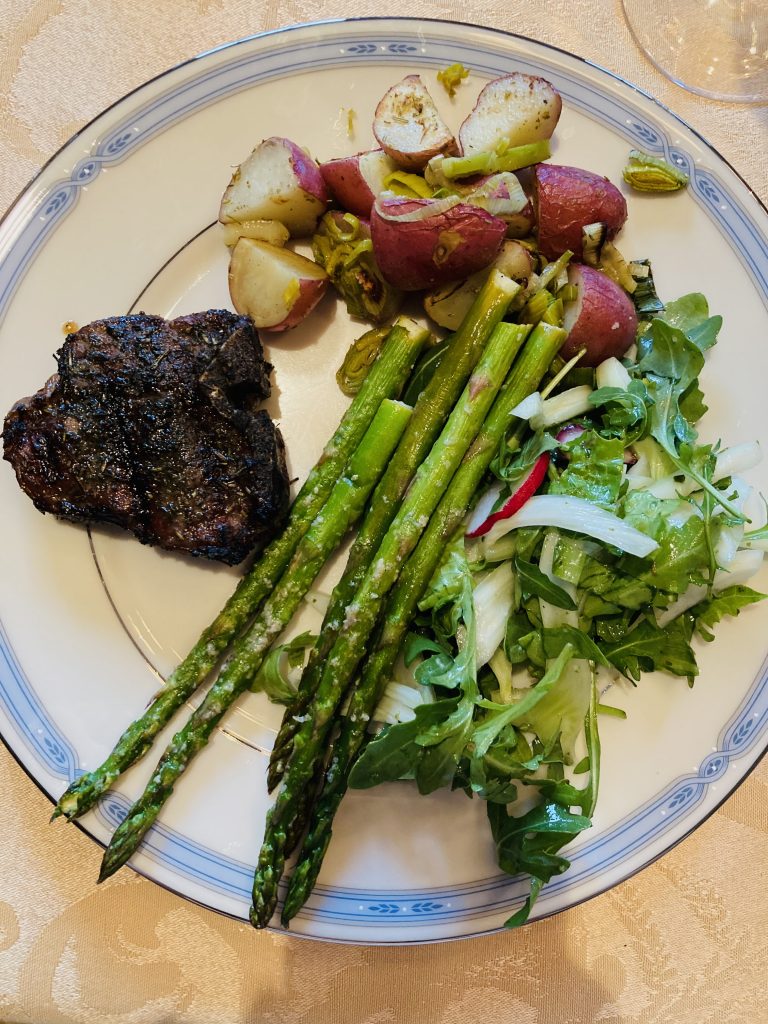 The climax, as so often is for any special day to this layer-cake lover, was a first-ever taste of Williamsburg orange cake. Earlier this year we had learned this is my grandmother's favorite, a fact that had gone unknown to us for my 22 years of life. I had never even heard of the cake, never having seen it in any bakery or food publication before. Only in the pages of my mother's old Betty Crocker had my eyes grazed past it before in search of her words on one of our more standard bakes. Once it was on my radar, I had to make it, but with only three of us in the house and not being easily distributable for shipping to others, a layer cake is a commitment. I made it as a gift to an orange-loving family friend back in January but being a gift, I had no idea what it tasted like (a risk I rarely, perhaps never before, have taken). Now was the perfect chance to taste for ourselves. And after three days – baking, crumb coat, final frost – and three zested oranges later, we did.
A nutty creamsicle is the best way I can describe it. The base of the cake is nothing wild save for a healthy tablespoon of orange zest. Mixed in, though, are golden raisins and your chopped nut of choice, walnut in this case. And those three things in combination bounced off each other and lifted the best of all up. The orange and golden raisins together specifically were a special treat, juicy and bright like a sip of boxed fruit juice at afternoon snack. The distinct role of the golden raisins from regular ones could be appreciated, the experience clearly different than joy of the raisins sometimes found in a carrot cake. Though if regular raisins were all that was on hand, I would certainly delight in those as well rather than forgo a fruity burst altogether. The frosting too was simple at its core. A vanilla buttercream. But more orange zest and a few tablespoons of orange liqueur flecked it with titular orange in pleasing haphazard dashes while distilling the creamsicle quality to its most potent, delightful best. While a dash of cinnamon and nutmeg and cream-cheeseing the frosting would be a fabulous riff in the future, maybe some orange marmalade to spread in the middle, I can see how this simple, standard recipe has stayed my grandmother's favorite, and am glad we have finally wised up to it as well.
And so, spring has been welcomed in earnest. Still small and intimate at or dinner table, the fare uncomplicated, but just right and filling for body and soul just the same. If it sounds up your alley, I highly recommend. If not, let me know how spring is hitting you and your kitchen this year in the comments! Or drop me a line via my contact me!