Ironically, I had written an entire reflection on the runners high that comes from a good Marathon Kitchen Day(s) when a few of those very days ran right into the time of year where every day is a marathon – in the kitchen or otherwise – and it never got edited and posted! Instead, I meet you with one Fakesgiving (an early Thanksgiving had at my place due to my sibling's work schedule), one Thanksgiving, a post-thanksgiving weekend of Christmas present cookie box prep, and a second weekend of Holiday baking all done and accounted for.
And still the culinary marathon pumps me full of adrenaline!
But what I am thinking of more than the hands-on moments in the thick of it are the preparatory ones. The reverse-engineering of timetables going back days to get the Thanksgiving table set without (too much) sweat. The mental conjuring of the proposed table to suss out if the color proportions are adequate on the final plate. Balancing levels of hearty and light, bright acid and deep umami. And most of all at the moment: constructing a well-built cookie box.
As might be obvious, I have given food related gifts as presents to a large portion of my family and friends for most of my life. Throughout my childhood and teens this was usually a chocolate box. My Mom would patiently assist my sibling and I as we melted chocolate wafers in squeeze bottles until we could easily pipe them into Christmas-themed molds and dip pretzels into little cardboard tubs of it. We paid no mind to tempering, hoping mostly to keep the chocolate liquid enough that it would flood the mold evenly without bubbles and set cleanly enough to look presentable. As candies became ready, we would gather and count the different types against our list and continue our production line so as to produce a well-rounded and varied box for each. A couple of simple chocolate molds (of different designs, naturally), some chocolate covered pretzels, a couple of chocolate clusters. A little something for every taste and the general beauty of variety.
This chocolate production day usually happened during the post-Thanksgiving weekend, if not the day after, and was a big part of launching into the Holiday spirit. Chocolate got everywhere as we played Christmas music and thought seriously about whether we should fill the toy soldiers or candy canes next. And, of course a few testers got lost along the way. You know, for quality control.
But since college the chocolates have morphed into a cookie box. Or, more accurately, a mostly cookie box. For in my quest for a well-constructed holiday treat assortment, I often find that a cake, bar, truffle, or candy make their way into my lineup. The main points of my construction philosophy are as follows:
All items must travel well. This is where I often have to kill my darlings. I dream of beautiful bakes to gift to a relative across the country that would simply not stand up to the knocking about with the packaging I can give it, so on the cutting room floor they go.
All items must contrast in what they give the eater. No flavor redundancy. If I have a chocolate cookie, I am not looking to do another chocolate cookie. I don't want one type of nut or fruit to be showing up in everything. There should be something for whatever mood one may be in.
There should be a variety of textures. This is where the non-cookie goods often come in offering something plush or snappy in a way most cookies just won't.
There should be a variety of shapes. While this took the form of using literally different molds in chocolate making, the cookie combo process means making decisions about how many classic circular cookies, oblong biscotti, bulging filled pastries, or square bars I include. The answer is ideally no more than one of any type.
There should be at least two different treats. Four is the goal, but my devotion to the rule of threes typically wins out. And each type of treat should be represented at least twice in each box or bag.
All of these factors are held in a delicate balance. I may be all eager to make a batch of jam-filled thumbprints that would add a nice dose of fruit to a chocolate and caramel-leaning affair, but be arrested by remembering the poor travel quality of the delicately cupped jelly, and the double down on the oat coating as it clashes with some oatmeal scotchies. Or I could be considering a walnut and chocolate chip biscotti when I remember I've already worked in a fig and walnut filled shortbread. Then, do I alter the shortbread or do a different biscotti? What would be the best combo for the intended receiver and their family?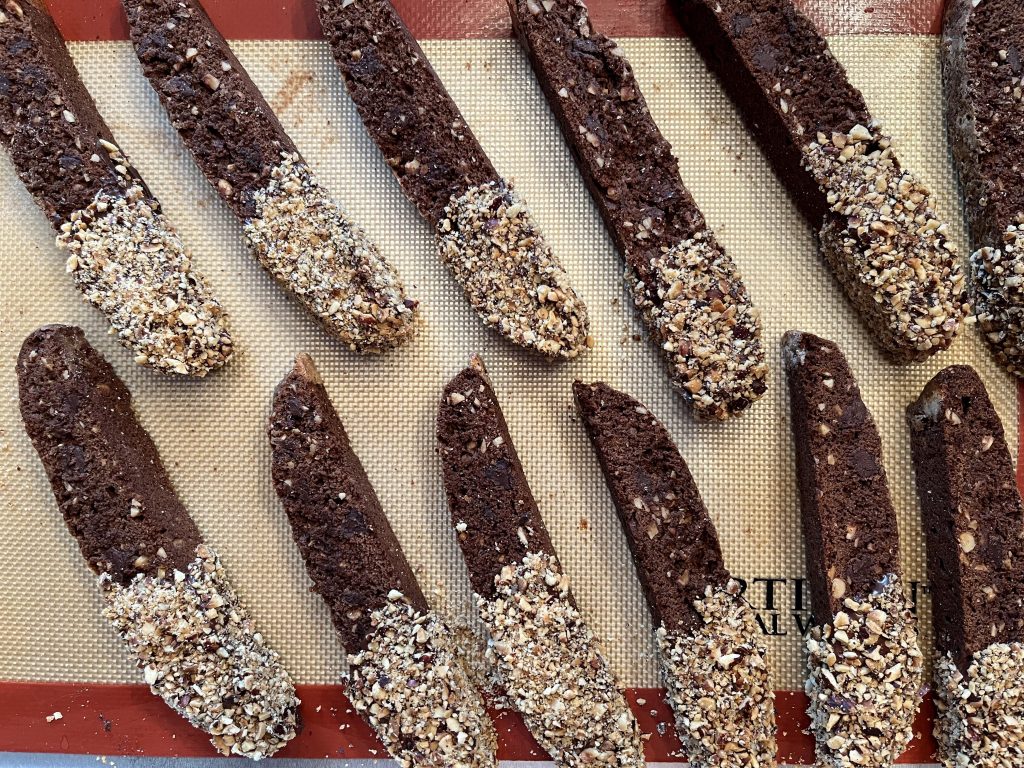 A mocha hazelnut biscotti dipped in chocolate and more hazelnuts, packing a delicious punch
With the feeling of a gradually speeding up treadmill ever increasing as Thanksgiving approached this year, my cookie making day had me troubleshooting my content as I went given available ingredients and available time. This had me transgressing slightly on my flavor variety tenet in the end, as the initially planned pistachio biscotti turned into a mocha hazelnut (due to a dearth of pistachios in the stores) which had similar notes to the German chocolate cake cookies that were already good to go. But with different nuts and the deep coffee flavor in the biscotti giving it a distinct feeling from the caramel and coconut strewn cookies I didn't feel too bad about the chocolate double-down. They were also rounded out by some shortbread of both the vanilla and chai spiced variety – a favorite of last year brought back by popular demand. And, after dipping some of the biscotti in melted chocolate and coating with crushed hazelnuts for a finishing touch, I used what melted chocolate was left to coat some graham crackers, harkening back to the chocolate-work focused days of old.
That was the first round – pounded out over two days to get the necessary packages out in more than enough time for Christmas – but there is still plenty of goodie boxes to parse out. Last weekend saw a hasty platter of rye ginger cookies and peppermint brownie cookies for a small impromptu get together. There'll be some mini sticky gingerbread loaves as well as a couple of regular ol' sourdoughs and perhaps a first shot at a chocolate babka, some fig and pistachio ma'amoul, Russian tea cookies, gingerbread, and maybe even some classic iced sugar cookies if time is kind to me. Peppermint bark to top it all off? I just might! Or maybe I'll get taken into a different direction in a burst of hyper-fixated inspiration, and the delicate balance will have to be sought again. But as it is every year, that's part of the act of love in goodie box gifting. The desire to create something sufficiently beautiful and satisfying in the ways another might appreciate, and through that feel thought of and cared for. So, should I find a more suitable path for gifting sugar and spice to please those around me, I'll happily wander down!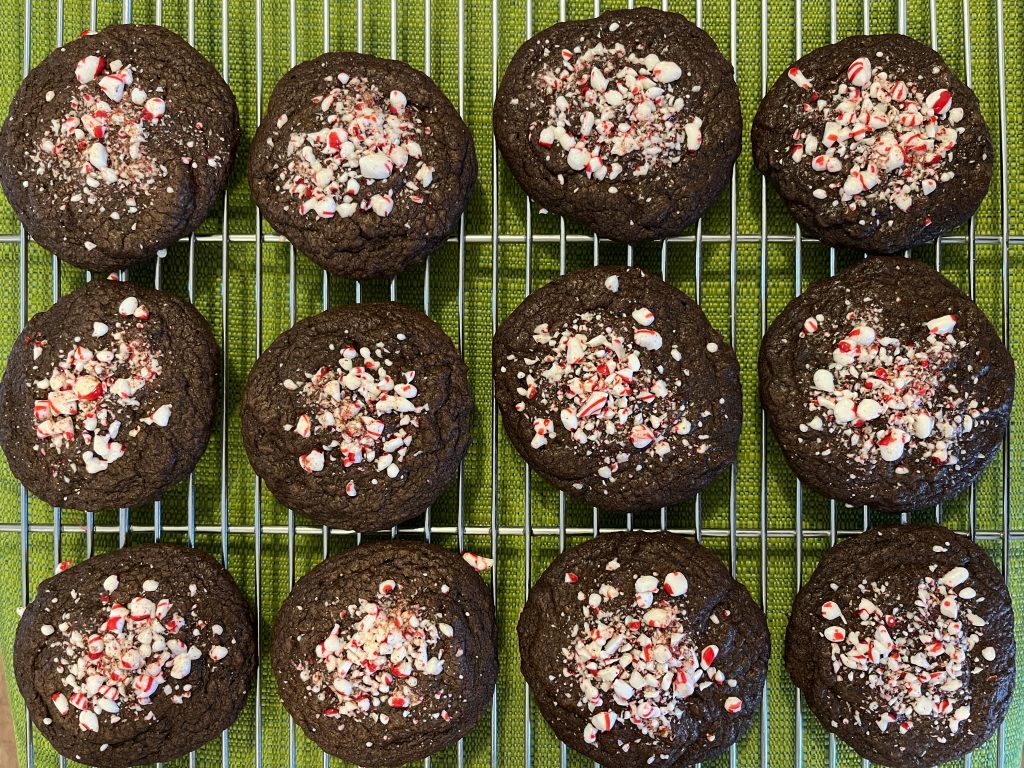 Peppermint brownie cookies serving deep chocolate with just a small hit of seasonally appropriate mint