Sometime, a cooking urge takes hold of me so strongly that all else becomes either an impediment or enabling action towards its completion and nothing more. I become hyper-fixated on perfecting the menu and reverse engineering my timeline, giving far more importance to the execution of this dreamt up kitchen endeavor than is warranted. It is the convergence of my enjoyment in cooking, event planning, research, theatre, and intensifying low-stakes situations for the low-risk rush. Big holiday meals are just not enough to scratch the itch, so the occasional Sunday dinner must be made a production!
Such a fixation struck me a couple weeks ago when, upon using the last of my homemade chicken stock from the freezer, I knew it was time to roast a chicken. Could I use the Better Than Bullion I have in the fridge? Sure. Could I have even just picked up a bag of bones to make more stock? Certainly. But roasting a whole chicken would not only provide me the stock-making bones I sought, but a whole chicken's worth of meat that I could easily stretch out over a busy week when meal-prep would be forcibly truncated and dinners would be eaten at my desk. Not to mention the drama of roasting a bird! While a process with so little hands-on work is not usually where I gravitate, I do like the process of spatchcocking (when I have the right equipment and am not sawing my way through bone), deciding on a brine and other aromatics to bed it on, and watching it go from pallid and pale to roasty toasty in the oven. And that's all before making a gravy from the drippings, the gift of a perfect condiment to tie every part of the meal together. Who could resist the beautiful efficiency of it all?
From there, the stars seemed to align. While my spirit wanted me to run out and get a chicken there and then to cut straight to the show, I knew that if I wanted it to be worth it, it would take some time and planning. I don't buy meat much, and when I do it's typically from the farmers market or direct from the farm itself as I'm lucky to be near a number of farms with a diverse offering. So it was fate that, not long after the urge took hold, I saw that the next indoor winter farmers market  would be the next Saturday. Perfect! I could drop by, grab a chicken and whatever veg looked viable to roast it on, and brine it for 24 hours before roasting Sunday! However, knowing that we are still in winter's clutches here in the Berkshires, I did a little safety shopping that Sunday for good looking veg that would hold up till next Sunday should there be no veg to be found with the chicken. I grabbed a delightfully bulbous rutabaga, a fully fronded fennel, as well as some granny smith apples, as I sometimes like including a fruit in my roasting bed and wanted to have the option in case I was inclined to that direction.
Fate struck the next day, when the growler share program I am a part of with Hot Plate Brewery sent sign-ups for their next flavor to be picked up that upcoming chicken-roast weekend: A farmhouse ale infused with roasted rutabaga. Not only would I be liable to plan my meal around the latest growler drop – as each beer I have had the opportunity to taste has been not only delightful, but some of my favorites I've had from the citrusy IPA to a delightful chamomile infused blonde ale and more – but the unique inclusion of rutabaga in the brew coinciding with my recent purchase of the root was utter kismet. So, it was set. The theme of the meal was rutabaga.
The week trod on and the back of my brain kept turning as I went about tasks more commonly seen as important trying to decide "Would I buttermilk brine, or dry rub? Would I add heat to the equation and, if so, what kind? Should I do a butter-under-the-skin situation? Which herbs should I center? Should I have it with rice? Barley? Lentils? Potato? Should I bake some bread to go with it?".  Life's important questions. Yet, all the while knowing it was ultimately up to the Farmers Market Fates and Day-Of impulses.
But none of my questions were "What if there is a snow storm this weekend?", which is where my careful reverse timetable-ing was flawed. In true New England fashion, we were yanked from days verging on spring to cancelling shows because of wintry weather. And so I found myself that Saturday morning not embarking on a leisurely mission to the farmers market and back before heading into the office, but in a state of pure determination trying to get what I needed and beat the storm before hunkering down in my apartment and working from home. Because of these given circumstances, I naturally arrived at the farmers market to find no chicken. Pork, lamb, and beef were for the taking in a variety of cuts, but not a fowl to be found. So, I quickly bought some potatoes, knowing I was out and not wanting to leave without buying something given how sparsely populated it was, and booked it down to Guido's for the next best thing. After navigating aisles and counters packed with other pre-storm stockers, I had my chicken and a bunch each of parsley and dill, and was able to get it back just as the snow began to pick up speed.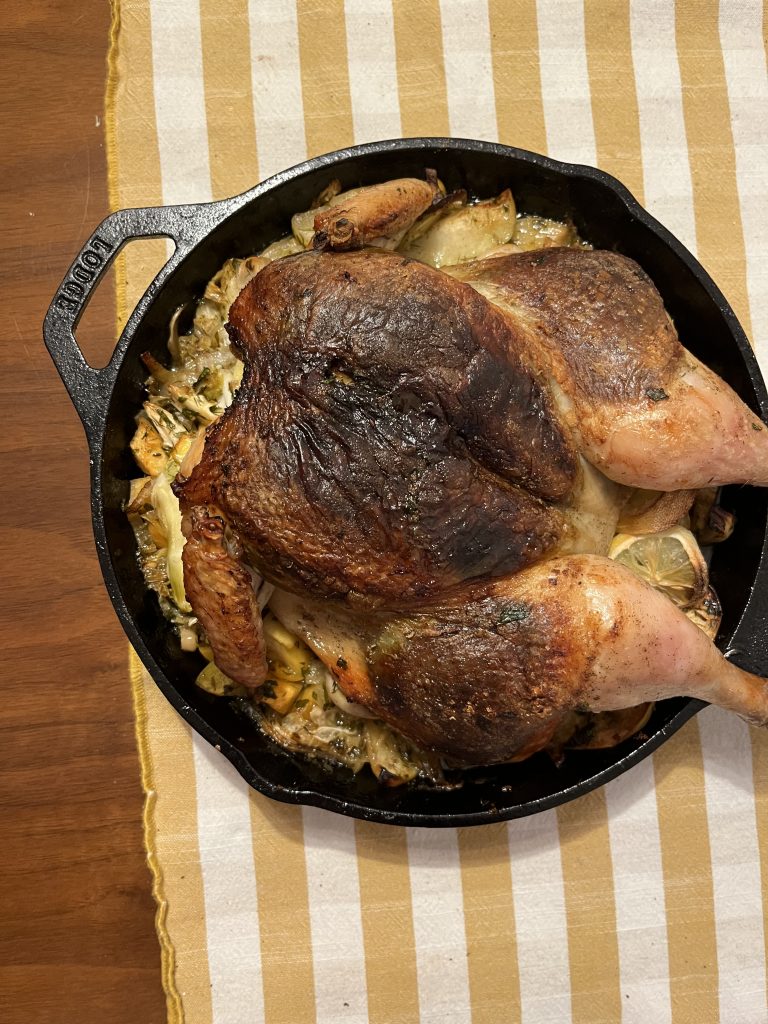 Ultimately, I ended up going with a dry brine of salt, pepper, MSG, and ground caraway and fennel seeds. Under the skin, I spread a compound butter of parsley, dill, fennel fronds, grated garlic, pepper and a lemon. The bird lay spatchcocked atop a bed of rutabaga, fennel, onion, green apple, and some cabbage that I had been looking to finish off (as a head of cabbage is seemingly ever-lasting). All the veg was seasoned similarly to the chicken and tossed with olive oil, and between the two lay thin slices of lemon. It felt perfect for the winter/spring in-between times, not big on the hearty flavors but not tricking myself into summer. Light and vibrant but still with the veg and an aromatic profile that says it's a time to be cozy.
Deciding not to stretch myself too thin and revel in the roast itself, I opted to use up some everything-seasoned and scallion-speckled sourdough from my freezer stock, so the only element that was left to procure was the beer! Luckily, the snow had stopped and the roads fared well enough for me to make my pickup that Sunday and chat for a bit, giving me the extra pep in my step it always does, with an added bonus of completing the menu vision.
From there it was smooth sailing. With Samin at my side and a podcast rolling, everything was hands off until the bird emerged well-browned and ready for a rest while I made a quick gravy, just heating the plentiful juices, mounting with butter, adding some flour and emulsifying some cream. Tasting for seasoning I was surprised by just how sweet it was, a pleasant riff on the usual, likely from the apples cooking down.
And the rest was just as sublime, providing a satisfying payoff to my weeks of fixation. And while the chicken and veg certainly delivered, the star ended up being Hot Plate's brew! It was the perfect pair with each component of the meal, as well as just darn tasty. The rutabaga came through without being overpowering, and it was full bodied without being heavy. It is one of my favorite beers I have had period, and one I hope to be able to have again!
While spring holds a number of formal holidays from – Nowruz to Purim to Holi to Easter and more – giving us the chance to celebrate revival, rebirth, and the coming of spring, sometimes a random Sunday is as good a time as any to put a little extra care towards a meal and let the enjoyment of it fill you up and fuel you forward. Such a meal prompts one to look forward and give thanks any time of the year.