The summer season is in full swing and, working in theatre, that means I am swinging right along with it. But while these past couple of months have had me grinding more than ever, they have also brought more opportunities for culinary exploration and experimentation and some actual Scoutin' it Out to occur!
Yes!
While I am approaching nearly a year of residency in the Berkshires, the ongoing pandemic, busy schedule, and my inclinations towards frugality – as well as my own busy kitchen habits – have meant that I have not done much sampling of the local restaurants and bakeries until recently. I had become accustomed to exploration and inspiration via reading the various food publications, newsletters, and books that permeate? my reading material and embarking on the journeys they spurred in the kitchen to taste for myself and gift to others. And while that has continued to keep the spark alive as prompts roll in from friend's birthdays to anniversaries to contests and off-hand comments I seek to make a reality, there is a little something lost when mired in the product of one's own hands alone. Whether from my complete passion or base pride or a mix of the two, I tend towards this self-production or nothing way, and the pandemic has certainly added fuel to that fire giving me justification. But there is a different kind of glee in digging into a tasty bake from the hands of another or choosing from the menu conceived from another's mind.
After being lucky enough to have had a few such experiences in recent months, here are a few that have particularly revved me up!
The 101 Restaurant and Bar
Innocuously tucked away in the Holiday Inn Express in the heart of Pittsfield, the 101 is not only one of the best restaurants in the Berkshires but one of the best, period. Serving a largely southern-inspired menu, each dish was familiar and homey with a dose of creativity that took it to the realm of restaurant food. After intending to go for months and hearing nothing but good things, I finally got the chance to take my parents with me on a rare night out going to a show that I wasn't working as a birthday weekend treat back in June. After getting past menu [indecision], we settled on an assortment that gave us a well-rounded taste of the full breadth of their ability. A base of jalapeño speckled hush puppies and on-point cocktails across the board set high expectations that were more than met with sweet potato risotto, shrimp and blue crab grits, and hand-made spaghetti Bolognese. As risotto is one of my staple, no-recipe-needed meals I would not usually have gone there for an order, but the bacon and caramelized onion jam mixed with the seasoning with the sweet potatoes mixed into the perfectly cooked grain gave me new inspiration for my own risotto game! And while I have had shrimp and grits across the south and made it myself many a time, this was possibly the best iteration of them all. Each element was made to its ideal, but what really brought it over the top was the browned butter sauce tying it all together in a savory sweet mélange. And in another "I can make it myself so why bother ordering it" moment, the hand-made pasta achieved a rarely found al dente texture and was just sauced enough in the Bolognese to its truest definition. And while more tart than pie in form factor, semantics did not matter in the caramelly nutty goodness, highlighting the pecan with none of the cornstarch goo.
Each dish not only gave me ideas to expand my own cooking but made me appreciate the unique skill of the chef and the singular joy found in being surprised with delight at the table.
I did not remember to get any food pics at 101, but I did remember to get a pic of the Raspberry Lemonade cake I made for my Birthday the next day
Brava
No spot had been hyped as much as Brava. The no-reservations, not open Sundays wine bar in Lenox held a reverential sort of status as the place to go if you want to go somewhere nice. This perception may be skewed in part from one friend who is particularly prone to singing its praises, so it was only fitting that my first attendance was with her for a rare day-off get-together. Luckily, it lived up to every bit of the hype. While the porch was unfortunately full, meaning the Best Dog in the World could not join us, it did mean we got to sit back in the inside atmosphere of relaxed yet refined and enjoy the light hum of the restaurant while being just removed enough in the ideal window seat we managed to snag.
While the beer and cider selection was just as varied as the long list of reds, white, and rosé, not to mention the creative cocktails available as part of the cultural cocktails series put together by Berkshire Mountain Distillers and the local culturals (maybe make yourself a Colonial Cosmo while you head over and plan an evening at the theatre why dontcha?), I knew this first experience necessitated a wine. This also gave me a chance to gauge the trustworthiness of the staff's recommendations, for while I've read one book on the basics of wine to familiarize myself generally, and tried to take note whenever I have a glass what exactly it is, how it tastes, how it pairs, and if I like it the wine list was so vast that any decision felt arbitrary. And if there is a word that is antithetical to my vibe surrounding food and drink, it is "arbitrary." After describing what I was generally in the mood for – a bold, juicy red – the waitress came back with two options at two price points. And after the first hit the nail on the head, she kindly read me to a tee and recommended I not bother trying the other (because $$$).
With the perfect rec to sip, we went ahead with some bread and butter to combine with the shrimp and the Swiss chard for a set of apps before a mushroom and fontina pizza. This, too, was an instance where I would not normally find myself ordering pizza, as I make so much at home exactly as I like, and have not had much pizza success around here to boot. But being the main entrée of the establishment trusted by palates that know, we were treated to the wonderfully thin and foldable flatbread perfect for two. The combo of mushroom and fontina gave it just a bit of funk to warm our mushroom-loving hearts and was consistent with the spot-on flavor from the spice level of the shrimp to the touch of sweetness and nuttiness in the chard (though I felt it could have been salted a bit more). I have since been back with my Mom and Aunts for post-show cocktails and white sangria and a charcuterie board that has me thinking about when I'll be back yet again!
Bread Folks Bakery
I first learned about Bread Folks from the same friend who first told me about Brava, further proving why we're friends. Located in the Brooklyn-esque downtown of Hudson, NY, they are one of those line-forming bakeries made famous on social media as a must-visit destination for beautiful croissants and sourdough-leavened breads filled with whole grains and seeds. When said friend had to run a work errand in that area a few months ago, she kindly brought me back a sample of their baklava croissant (knowing my fervor for pistachios) and a seedy sourdough that I worked through quicker in the forms of toasts and sammies than my own loaves.
So, when I realized I would be near the area as I traveled fo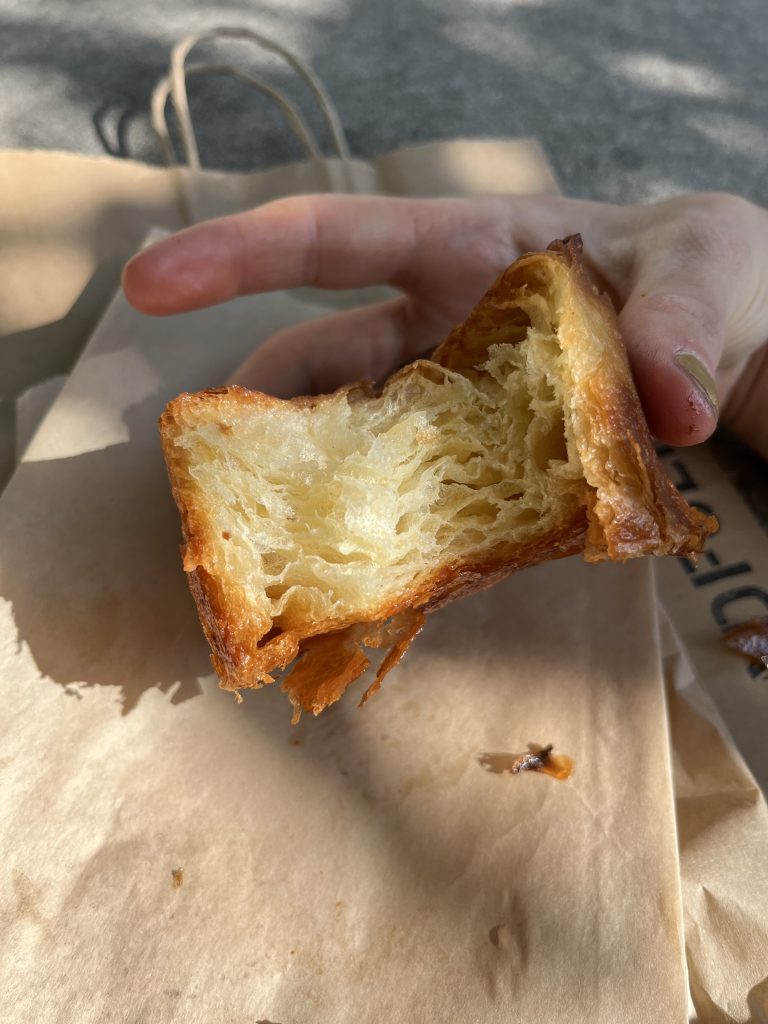 r a 24-hr Poughkeepsie vacation to visit NYSAFafter too long away, I knew I had to make the in-person stop. I was out the door at a crisp 7:30 am to get there at 8:30 am to be sure I was in line and ready for the freshest of fresh when the doors opened. While in line and not smiling at adorable babies and dogs doing their Sunday constitutionals downtown, I tried to peek through the window to see the offerings and be prepared to order, but the glare proved this unviable. But this was fine, as even once I entered new wooden pallets of pastry kept sliding into the glass case. A croissant seemed a must, but my body was also asking for something that wasn't just butter and starch so those filled with ham and gruyere or the small Danish containing fruit were tempting as well. But when I saw the kouign amann I knew that was it. I had not had the pleasure of a caramelized croissant since the last time I was at Dominique Ansel Bakery a lifetime ago, and this already nostalgia-fueled trip was deciding for me. Just as I was ordering at the counter, committed to the KA, a palate of sausage rolls slide in, and so too into my order, as they not only contained the protein my tummy wanted (though obviously not exactly in the form but….vacation decisions) but had just been mentioned by my father having the real deal overseas in England.
Pastries and iced coffee in hand, I managed to secure a secluded spot in the adjacent park, taking the place of the newsboy-hat-topped baker taking a pic of a fresh loaf in the natural light for the company's socials as I did just the same. I took bites and then stared with wonder at the layers as they continued to reveal themselves further and then recede as did the pastry until I was left with only the paper-thin flakes, casualties of perfect crispness, and the lingering taste of good butter and a well-spiced sausage. My few attempts at croissants have been edible, and even tasty, but certainly not anywhere near what a croissant should be, and eons away from this idyllic example. And indeed, so few croissants and puff-pastry goods reach that textbook-perfect point even at many a reliable bakery. It's what makes finding one such a special treat!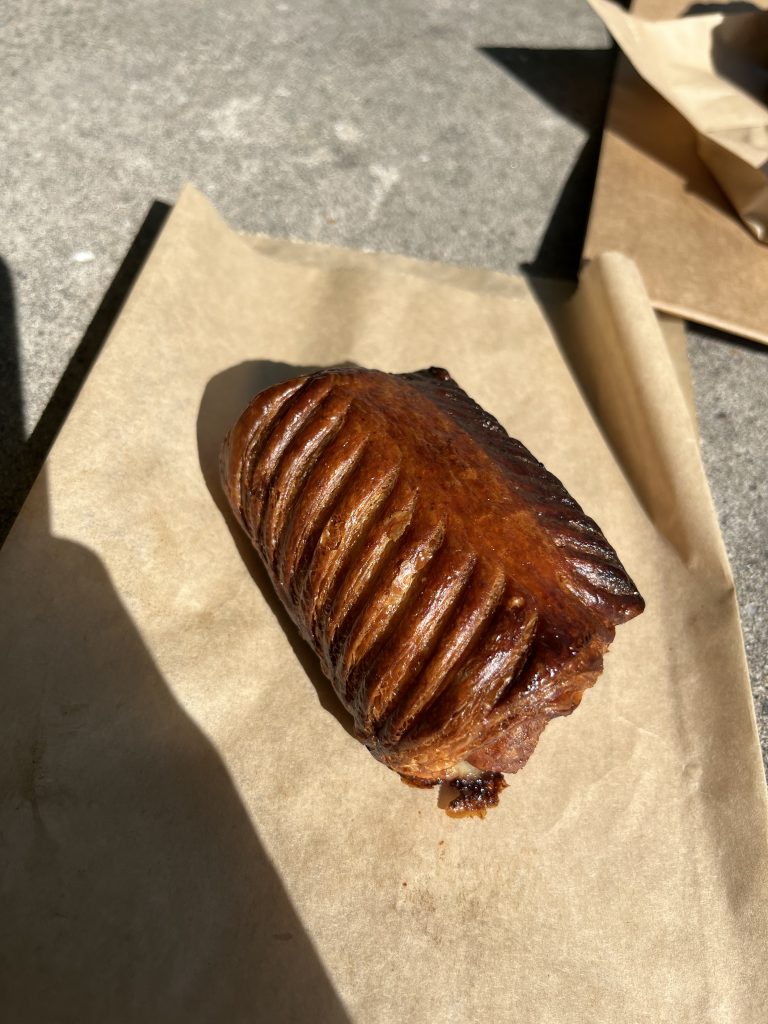 The CIA (Culinary Institute of America)
 I could not live with myself if I did not use this visit to Poughkeepsie to finally visit the only CIA that matters to me – The Culinary Institute of America. While I had worked in the city for two months back in 2019 and longed to visit the CIA the entire time, having no personal car and very little time or money, I never ended up making it there. But now my time was my own, as were my car and my funds. I left my hotel that Monday to get to the riverside campus right on time for the opening of Apple Pie Bakery, one of the school's training cafes and restaurants where the students get experience not only making the food but in all aspects of the hospitality.
I had tried my best to go in with a plan, knowing my propensity towards decision paralysis, and had even had a rough decision made: a savory to try some cooking, and a sweet for the baking, maybe even saving the sweet for an on-the-road snack. But, perhaps due to the sheer grandeur of the stately brick buildings, or the light of amusement from following the roads like "Thyme St." and " Sage Way", or stepping into the hallway like something out of a British boarding school (except replacing any sporting trophies with antique chocolate molds and historic food adds on display) when asked what I would like I found myself in the very [paralysis I had sought to avoid. That, as well as an ask for a recommendation, is how I ended up with a croissant for the second day in a row (though, this was a plain croissant, no caramelizing). And a recent discussion about my affinity for scones, as well as memories of my raspberry lemonade birthday cake, is how I ended up with a raspberry lemonade scone as well. So, two sweet, no savory. But I topped it off with a ginger iced latte and went happily on my way to the courtyard because…what else was I supposed to do? It was my vacation! It was the CIA! I need to sus out their lamination skills AND scone skills, right? It was truly just responsible.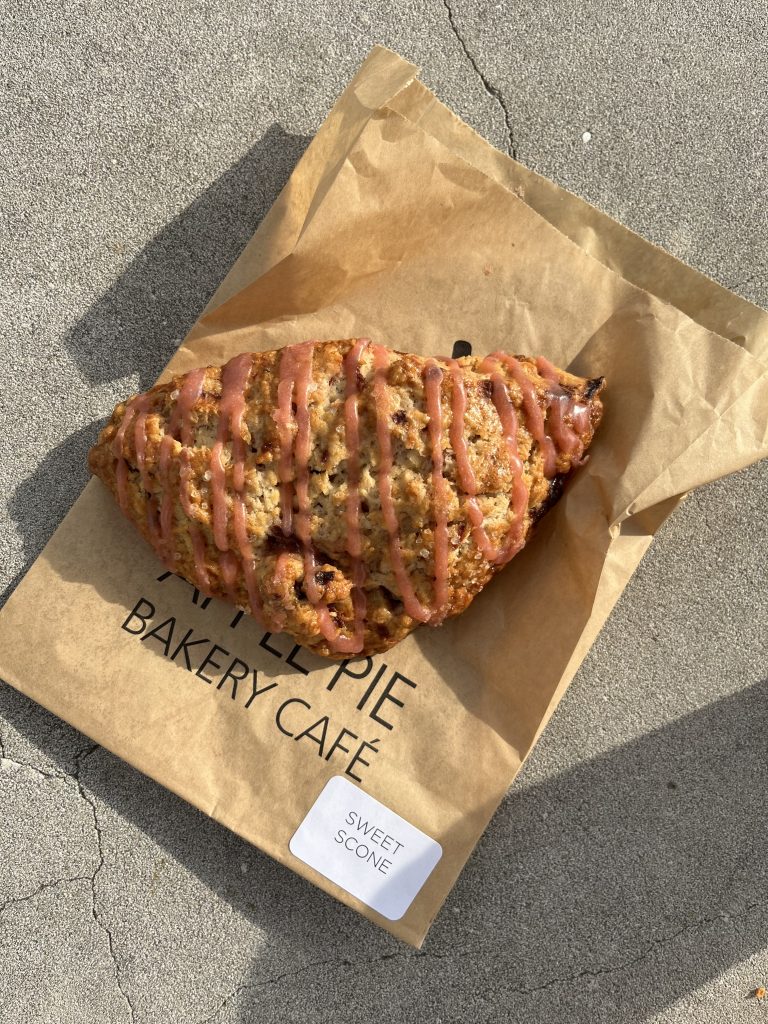 Shocker, the pastries produced from the place that teaches millions of people how to make pastry were incredible. Perfect bakes, perfect flavors. The coffee, even, was the best I had gotten all trip. Looking out onto the Hudson, I felt I had finally tasted the sweet victory from a years-long hero's journey to a homeland. And now, having experienced the place of dreams, I was inspired to continue to grow in my baking.
While I am back in my own kitchen in a newly inspired state of recipe planning and testing on some projects, I am grateful to have been reminded of the importance, and more importantly the joy, of tasting the bakes of others. In that way, these experiences have very much reminded me of being a worker in the arts. While the nature of the job often means becoming mired in one's own work, leaving time for little else than the universe that surrounds it, some of the best growth and greatest discoveries happen when one can put their work down for a second and enjoy that put forth by others.
What have you been treating yourself to lately? What have you eaten or seen that has inspired a change in your kitchen habits, or revisited to old ways that had gone dormant? Where have you gone that has made you feel cared for and content? Let me know!